26/09/2017 - NORTH KOREA-USA
Foreign Minister Ri Yong-ho: The US has declared war on us. We have the right to shoot down US jets. The White House: Absurd idea. Fears that the "war of words" will turn into "real action". UN, Russia, China, and South Korea ask both sides to cease provocations. In Pyongyang, photos and videos of an US bomber and a North Korean missile carrier.
26/09/2017 - SYRIA
Catechist in Aleppo, where faith overwhelms fear and violence
Rania Salouji is a 40-year-old Christian woman. She is married to Grigor and they have two kids, 17 and 14. At the beginning of the war she thought about fleeing but chose to stay. She was anxious for months when her husband was held captive and she is still traumatised by the death of a boy killed by a rocket near the catechism centre. Each day she entrusts her children to Our Lady, reciting the Rosary. We must "live normally, as much as possible".
26/09/2017 - ISRAEL
For activist, Israeli taboo about nuclear issues endangers health
There is no awareness about the risks of nuclear power. The security of citizens must be the priority. The Dimona plant has had 1,500 faults, but no one knows what or where. The prime minister's statements about Iran are accepted as factual even though they contain no facts. Civil society groups must become involved.
26/09/2017 - PAKISTAN
As an Islamic State flag is found in Islamabad, government is accused of ineffectiveness
by Kamran Chaudhry
Police removed a slogan under a billboard praising the Islamic Caliphate. Pakistani authorities have always denied the presence of the Islamic State group in the country. But for years, the terrorist programme has been taught in school. Religious parties make gains in by-election.
26/09/2017 - VIETNAM
Catholic students committed to "missionary discipleship" in Ho Chi Minh City
by Thanh Thuy
Tens of thousands take part in charity and social activities in the country's parishes, mostly Catholic students attending university or working in cities. St Paul Parish, Binh Tân District, has taken steps for migrants and poor children. During Saigon Diocese's 'Migrant Week', students promoted the message of the encyclical Laudato si'. Some young people told their story.
26/09/2017 - PHILIPPINES – VATICAN
Pope's initiative to "dispel fear and understand" migration, says Card Tagle
by Santosh Digal
"Share the Journey" seeks to promote a culture of encounter with migrants and refugees. The campaign will run until 2019. More than 160 Caritas members are involved around the world. The ACT Alliance, a coalition of 146 churches and faith-based organisations, supports it. "I hope the global migration and refugee situation will lead the whole world in a corporate examination of consciousness and our value systems," the cardinal said.
26/09/2017 - CHINA
WhatsApp in the crosshair of Chinese censorship
For more than a week the app had dropped in and out with periods of total disruption. Photo sharing and voice messaging have become impossible. The app provides end-to-end encryption. As the 19th Chinese Communist Party Congress approaches, the government has tightened censorship.
26/09/2017 - VATICAN
Pope: "Familiarity" with Jesus is to live freely in his home, sharing our problems
Familiarity with God and Jesus "is something more than being" disciples "or" friends "; it is not a "formal" or "educated" or "diplomatic" attitude. It is "being with him, watching him, listening to his Word, trying to practice it, talking to him."
26/09/2017 - UN - MYANMAR
Myanmar at the UN General Assembly: 'No ethnic cleansing or genocide in Rakhine'
The Burmese ambassador: "The issue is extremely complex." Member States and the international community call for "objective and impartial" analysis. The "fear factor" and the "burnt earth tactics" adopted by terrorists are the reasons for the Rohingya exodus. The government's priority is the resolution of the humanitarian emergency. Assistance programs for displaced people in collaboration with the Red Cross.
26/09/2017 - BANGLADESH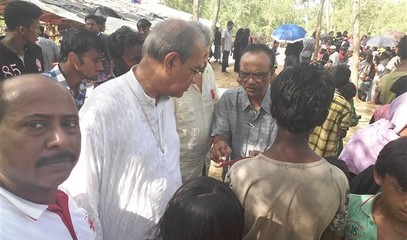 Bandarban, Card. Patrick D'Rozario visits Rohingya refugee camps (Photo)
by Sumon Corraya
The archbishop of Dhaka went to Tumbro and Ghumdhum. He listened to the stories of violence and misery. The cardinal appealed to world leaders. The Catholic Church has collected a million taka (10,200 euros) for the emergency.
26/09/2017 - ISRAEL - PALESTINE
West Bank: Palestinian kills three Israeli settlers, one seriously wounded
The attack occurred near the back entrance of the Har Adar colony. The identity of the attacker and the three victims still unknown. The man was "neutralized" by the security forces. The survivor was transported to a hospital in Jerusalem.
25/09/2017 - SRI LANKA
Young people seek the meaning of life, the Church has to guide them, says activist sister
by Rasika Pieris*
Sister Rasika Pieris expresses her thoughts about the Preparatory Paper of the Synod of Bishops on Youth, set for October 2018. The Church is "Euro-centric in its thinking," she writes. The challenges faced by young people in Asia are different from those in Europe.
25/09/2017 - INDONESIA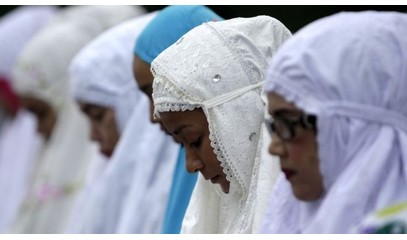 Young women to sell their virginity online
by Mathias Hariyadi
Islamic wedding between rich men and women in difficulty is promoted. The "nikah siri and virginity on sale" are ways to "help the government reduce poverty," promoter says. Membership requires women to be Muslim and at least 14. Police detained creator. For women rights advocate, the "ultimate goal is to sell sexual service". Both are "practices of violence and a grave abuse of women's human rights," said Justina Rostiawati, head of a Catholic women's group
25/09/2017 - MYANMAR
Rakhine: Military accuse Rohingya for mass grave with 28 dead Hindus
The bodies of 20 women and eight men, including six boys under 10, were found. For the military, they were "cruelly and violently killed by ARSA extremist Bengali terrorists. About 30,000 displaced Hindus and Buddhists are in refugee camps. They say the United Nations and foreign organisations help only Rohingya Muslims. The exodus towards Bangladesh has slowed down, but thousands are still stuck in Myanmar.
25/09/2017 - CHINA
What is Xi Jinping thought?
by Willy Wo-Lap Lam
At the next Congress, Xi Jinping's thinking will be included in the party's constitution, just like Mao Zedong's was. But this thought seems only to be made of rhetoric, nationalism, and an emphasis on China's greatness. Xi's much-vaunted contribution to Chinese-style communism tends to stop reforms to maintain power in the hands of the party and his own. Mao looked to the future; Xi is trying to hold onto the status quo. Courtesy of the Jamestown Foundation.