24/02/2017 - EGYPT
The Coptic minority is being targeted by local cells of the Islamic state. The murder took place yesterday in Al-Arich. The man's house was set on fire. Previously a 60 year old Christian and son were killed; the young man was burnt alive. Daesh announces new attacks on social networks.



24/02/2017 - SRI LANKA
In Jaffna, displaced Tamils want back land seized by the military or used for tourism (photos)
by Melani Manel Perera
Thousands took part in a rally organised by the People's Alliance for Right to Land and the National Fisheries Solidarity Movement. Seized during the civil war, properties are still held by the military or businesses operating them for tourism or agriculture.
24/02/2017 - INDONESIA
Standoff between Indonesia and US mining giant Freeport McMoRan
On 10 February, Freeport-McMoRan discontinued its mining activities, leaving thousands of Indonesians out of work. The reason is a dispute over fees and contract to be renegotiated by the company and the authorities.
24/02/2017 - EGYPT – VATICAN – ISLAM
Al Azhar and the Vatican renew inter-faith dialogue against fundamentalism
A symposium sponsored by the Al Azhar Centre for Dialogue and the Pontifical Council for Interreligious Dialogue ended yesterday in Cairo. Participants called for action against the root causes of extremism like "violence and poverty". Protecting young people, who are the most vulnerable to extremist ideologies, is a priority. Cutting funding and weapons to terrorist groups is another.
24/02/2017 - PHILIPPINES
Duterte's harsh critic Leila De Lima arrested
Arrested this morning on drug trafficking charges, she faces a life sentence. The senator and her supporters deny the charges, calling the case a plot by Duterte. For a decade, she has opposed the Filipino President, whom she describes as a "sociopathic serial killer".
24/02/2017 - VATICAN
Pope: "In God, justice is mercy, and mercy is justice"
Do not give in to the "logic of casuistry" that reduces the faith in terms of "can" or "cannot", but follow the path of Jesus, "the path from case study to truth and mercy". Jesus says, "Whoever divorces his wife and marries another commits adultery against her", but he spoke "many times with an adulteress." And in the end he said: "I do not condemn you. Sin no more. "


24/02/2017 - INDIA
Bangalore archbishop inaugurates first family counselling service
by Nirmala Carvalho
The goal is to solve the crisis of the family, and emphasise again the sanctity of the institution of marriage. The archdiocese will rely on the expertise of 20 Holy Cross priests. The disintegration of families is evident in the rise in marriage annulments.
24/02/2017 - INDIA
Mumbai fishermen furious over plans for worlds tallest Shivaji statue
The equestrian statue of the god warrior will measure 190 meters; its construction will cost almost 510 million euro. It is expected to be completed in 2021. It will attract 10 thousand visitors a day. The fishing community complains that the money could be spent on improving health, education and infrastructure. Activist: "The fascist forces use the god's statue as a symbol of Hindutva".


24/02/2017 - MYANMAR – CHINA
Hundreds of workers attack Chinese factory in Yangon
Some angry 300 workers destroyed machinery and held captive seven Chinese workers for a few hours over the sacking of a fellow worker. Strikes over low wages are increasing. Many in Myanmar are impatient with China's economic "colonisation".
24/02/2017 - MALAYSIA - NORTH KOREA
Kim Jong-nam killed by a powerful nerve gas
Police found traces of VX nerve agent on the victims' face and in his eyes. VX is considered by the UN as a weapon of mass destruction. Just one drop absorbed through the skin leads to death within minutes. North Korea believed to have between 2500 and the 5 thousand tons of nerve gas.


23/02/2017 - SOUTH KOREA
The testimony of Fr Lee Tae-seok in South Sudanese school books
The South Korean missionary and doctor will be remembered in elementary and high school textbooks. He served as priest, doctor, teacher and architect in the small village of Tonj in a country devastated by war. For Education minister, he is an example for new generations.
23/02/2017 - IRAQ
Christians and Muslims on a peace march from Erbil to Alqōsh
The Chaldean Patriarch spearheads action to end violence in Iraq and the Middle East on Palm Sunday. During Lent, Nineveh towns liberated from the Islamic State will be the stations of the Cross. Some 50 families came together in Tall Usquf for Mass and the raising of a large Chaldean cross on a hill. Mar Sako calls for "conversion" among regional and world leaders. Bridges, not walls, are needed.
23/02/2017 - BANGLADESH
Rajshahi, proclaiming the Gospel of young people to other young people
by Sumon Corraya
About 400 young students took part in a five-day seminar, which included meeting some families. The goal was to "help young people be free from the slavery of consumerism, materialism, and capitalism". For Mgr Rozario, "Our young people need to be like salt."
23/02/2017 - INDONESIA
Catholic programme Hidup TV launched
It provides three hours of content a day. According to Indonesia's Ministry of Information and Communications, 63 million Indonesians use the internet every day. The country is ranked fifth (after the US, Brazil, Japan and the UK) in terms of use of social media like Twitter and Facebook.
23/02/2017 - CHINA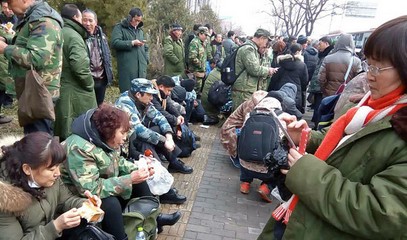 Beijing, army veterans protest: abandoned by the government
Since yesterday thousands have been protesting in front of the Party offices in the biggest demonstration since October. Promises made and not kept, "We have nothing, are in poverty and distress." Arrests and violence in Liulihe, Aiminjie, Datong, Luliang and Harbin.