04/05/2016 - ISRAEL - PALESTINE
The court sentenced 31 year old Yosef Haim Ben David for the horrible crime. He is the leader of a gang that in 2014 killed the 16 year old Mohammed Abu Khdair. Insanity plea rejected. The father of the young man killed applauds the verdict. Meanwhile, Israel continues to demolish homes of Palestinian youths suspected of violence.
04/05/2016 - SAUDI ARABIA
Saudi giant Binladen Group in crisis, 77 thousand foreign workers laid off
50 thousand workers refuse to leave the country claiming wages in arrears. 12 thousand contracts with Saudi workers and employees also at risk. The Saudi official unemployment rate is 11.5%, but the real figure could be much higher. Government's plan to disengage from the oil economy.
03/05/2016 - BANGLADESH
Workshop in Dhaka to train young Catholic writers
by Sumon Corraya
The 24th edition of a creative writing workshop ended today, organised by the Bangladesh Catholic Students Movement along with the Bishops' Conference. Some 35 students followed courses taught by professionals in literature and publishing. For organisers, these youths will play "an important role in the life of the country" and the Church.
03/05/2016 - CHINA
After burying woman alive, authorities in China return land to her church
Ding Cuimei died on 14 April defending the Beitou church from demolition. The authorities acknowledge they have no legal claim to the land, which belongs to dead woman's husband, Rev Li Jiangong. Local Christians demand justice.
03/05/2016 - PAKISTAN
Pakistan honours Christian politician in new postage stamp
by Shafique Khokhar
Dewan Bahadur S P Singha is on new 10-rupee stamp. He opted for Pakistan in a critical vote in the Punjab legislature at the time of partition. Christians and Muslims welcome the recognition, a sign that Pakistan is trying to promote interfaith harmony.
03/05/2016 - IRAQ
Islamic State attacks the Christian village of Teleskuf, in the Nineveh plain
Some Christians guarding the village are wounded, and rushed to hospital. Residents had fled in August 2014 when Daesh stormed the region. Lately, the village had been under the control of Peshmerga and Christian volunteers. The Chaldean Patriarchate fears Jihadi attacks will drive out more people.
03/05/2016 - MALAYSIA
Kampar: soup kitchen "is a small way to let others know about the presence of God"
With the Jubilee of Mercy, the Sacred Heart parish has begun to run a soup kitchen with volunteers helping to prepare up to 200 meals each Saturday, including university students and lecturers. The food is handed out near the local market where the needy line up. As volunteers meet the poor, "their eyes are opened to the needs of others," said Fr Tan who is behind the initiative.
03/05/2016 - VATICAN
Pope: There are many Christians who are "mummified" or "vagabond" or "stubborn" or, finally, "halfway"
There are many "confused" Christians who do not follow the only "right path" that is Jesus. "How am I on this Christian journey? Standing still, on the wrong road, hanging around, only stopping for things that I like or following Jesus who said 'I am the way!'? Let us ask the Holy Spirit to teach us to walk the right path, forever! And when you get tired, take a little refreshment and carry on. Let us ask for this grace. "


03/05/2016 - INDIA - ITALY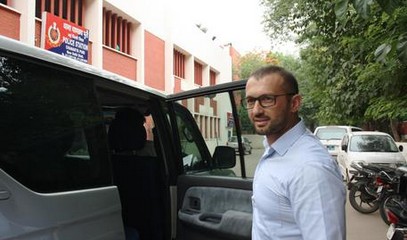 Widow of Indian fisherman: Let Italian marines return home
Dora Jelastine is the wife of Valentine, mistaken for a pirate by the two Italian marines. Yesterday, the Hague Tribunal decided that Salvatore Girone will return to Italy until the end of the arbitration proceedings. Rome expresses satisfaction, Delhi throws doubt on ruling accusing Italy of "misconstruing the judgment."


03/05/2016 - MIDDLE EAST
Growing corruption in Arab countries, Lebanon and Yemen worst of all
According to the study conducted by Transparency International in nine Arab countries, 92% of Lebanese and 84% of Yemenis say corruption is on the rise. By contrast, only 28% of Egyptians and 26% of Algerians believe that the situation is getting worse. Tunisia only note of hope: 71% believe that even ordinary people "can make a difference" in the fight against corruption.


03/05/2016 - INDIA
Andhra Pradesh: Priest among 14 arrested for bishop's kidnapping
by Nirmala Carvalho
Fr. Raja Reddy is from the same diocese as Mgr. Gallela Prasad. The bishop was kidnapped and locked up a facility run by the priest. The police speak of kidnapping for ransom, injury, damage and criminal conspiracy. The kidnappers had already attempted the kidnapping four times.
03/05/2016 - VIETNAM
Chemicals in the sea: thousands of people without food
by Paul N. Hung
Tens of thousands of dead fish litter central coast of the country. The government has not yet given an answer to causes, but independent experts blame local steel company. An underwater pipe uncovered, it had polluted the coast for years. Archbishop of Ho Chi Minh City: "Let us pray for our brothers and sisters affected by the tragedy."
03/05/2016 - CHINA
Web giant Baidu under scrutiny after man seeking cures for cancer dies
by John Ai
A young man, suffering from synovial sarcoma, trusts "medical advice" found on most popular search engine and dies after spending hundreds of thousands of yuan. His death unleashes public ire against companies that pay to obtain "best result" in the online searches. Hospitals also under fire; now entire departments are outsourced to private health companies.
02/05/2016 - PAKISTAN
Pakistan's trade unions in the streets for workers' rights
by Shafique Khokhar
Hundreds of people took to the streets yesterday in favour of 'a living wage'. Trade unions denounce the exploitation of women and children as well as low wages. The Asian Human Rights Commission slam collusion between officials and businesses.
02/05/2016 - PAKISTAN
Punjab: Muslims fund the construction of a Catholic church
by Kamran Chaudhry
The new church is being built in Khalsabad, a village near Gojra. The mud chapel used by eight local Catholic families was destroyed in the last monsoon. Muslim farmers and businesses gave financial support. For a Catholic clergyman, "This is a dialogue of life," even though Pakistan is famous for its violence.