24/02/2017 - EGYPT
The Coptic minority is being targeted by local cells of the Islamic state. The murder took place yesterday in Al-Arich. The man's house was set on fire. Previously a 60 year old Christian and son were killed; the young man was burnt alive. Daesh announces new attacks on social networks.



24/02/2017 - MALAYSIA - NORTH KOREA
Kim Jong-nam killed by a powerful nerve gas
Police found traces of VX nerve agent on the victims' face and in his eyes. VX is considered by the UN as a weapon of mass destruction. Just one drop absorbed through the skin leads to death within minutes. North Korea believed to have between 2500 and the 5 thousand tons of nerve gas.


23/02/2017 - SOUTH KOREA
The testimony of Fr Lee Tae-seok in South Sudanese school books
The South Korean missionary and doctor will be remembered in elementary and high school textbooks. He served as priest, doctor, teacher and architect in the small village of Tonj in a country devastated by war. For Education minister, he is an example for new generations.
23/02/2017 - IRAQ
Christians and Muslims on a peace march from Erbil to Alqōsh
The Chaldean Patriarch spearheads action to end violence in Iraq and the Middle East on Palm Sunday. During Lent, Nineveh towns liberated from the Islamic State will be the stations of the Cross. Some 50 families came together in Tall Usquf for Mass and the raising of a large Chaldean cross on a hill. Mar Sako calls for "conversion" among regional and world leaders. Bridges, not walls, are needed.
23/02/2017 - BANGLADESH
Rajshahi, proclaiming the Gospel of young people to other young people
by Sumon Corraya
About 400 young students took part in a five-day seminar, which included meeting some families. The goal was to "help young people be free from the slavery of consumerism, materialism, and capitalism". For Mgr Rozario, "Our young people need to be like salt."
23/02/2017 - INDONESIA
Catholic programme Hidup TV launched
It provides three hours of content a day. According to Indonesia's Ministry of Information and Communications, 63 million Indonesians use the internet every day. The country is ranked fifth (after the US, Brazil, Japan and the UK) in terms of use of social media like Twitter and Facebook.
23/02/2017 - CHINA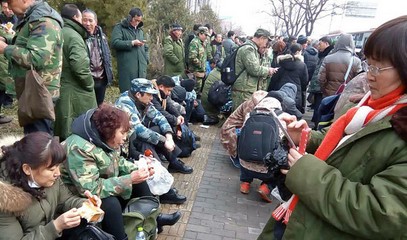 Beijing, army veterans protest: abandoned by the government
Since yesterday thousands have been protesting in front of the Party offices in the biggest demonstration since October. Promises made and not kept, "We have nothing, are in poverty and distress." Arrests and violence in Liulihe, Aiminjie, Datong, Luliang and Harbin.


23/02/2017 - PAKISTAN
"We are lying to ourselves," says former Christian general after another bomb kills nine in Lahore
by Kamran Chaudhry
The latest is the eighth incident of violence in ten days. The bomb exploded in the city's commercial district, inside a building under construction. There are fears that some workers are still trapped under the rubble. A number of shops, banks and restaurants were also damaged. No one has yet claimed responsibility. There is little hope for a new military operation against the extremists.
23/02/2017 - VATICAN
Pope: do not give scandal with a double life, but converted soon
"It would be good for all of us, each one of us, today, to consider if there is something of a double life within us: 'But, sure, the Lord will eventually forgive everything, but I'll keep going as I have been…' If there is something saying, "Sure, this is not going well, I will convert, but not today: tomorrow.' Let's think about that. And let us profit from the Word of the Lord and consider the fact that on this point, the Lord is very strict. Scandal destroys. "


23/02/2017 - IRAN - TURKEY
Turkish u-turn fuels renewed tension between Ankara and Tehran
Turkish President spokesman tries to downplay crisis. Turkey does not want "an escalation" of words with Iran. But Erdogan accuses Tehran of "destabilizing" the region irritating the leaders of the Islamic Republic. Ambassador summoned, a ready response on the Syrian arena. Israel's moves to create an Arab-Turkish in front in an anti-Iranian key.


23/02/2017 - NORTH KOREA - MALAYSIA
Pyongyang blames Kuala Lumpur for death Kim Jong-nam
The first statement issued on the issue by the North cites the death of "its nationals" in Kuala Lumpur, without the leader's half-brother Kim Jong-un named. Malaysia's actions termed "illegal and immoral" and in "total disregard for international law."


23/02/2017 - IRAQ
Assault for Mosul airport begins
The goal is to tear control of the airport and a nearby military base from Islamic State. Later attack to be launched on southwest sector. Increasingly critical humanitarian situation in the west. Children dying from malnutrition, at least 160 thousand people have fled the city.
23/02/2017 - INDIA
India, Franciscan nuns promote inter-religious dialogue: An experience of deliverance
by Santosh Digal
In 1986 the Franciscan Missionaries of Mary created groups for Interreligious Dialogue. Their work is developed in Tamil Nadu, Andhra Pradesh and other parts of India. They created a network of collaboration with other organizations that support friendly relations between religious communities. Thanks to mutual understanding, conflicts between Christians and Muslims defused.


22/02/2017 - LEBANON
Trump, Marine Le Pen and the Middle East: Lebanon against walls and divisions
by Fady Noun
The beginning of the Trump presidency has been characterised by the "babelisation" of American society. Each country pours out his hatred against an external enemy. The current global crisis has religious roots. At the heart of the chaos there is the Jihadi threat. The third world war cannot be won with drones, but with moderation and promoting rapprochement and discussions.
22/02/2017 - HONG KONG
Hong Kong's former chief executive Donald Tsang sentenced to 20 months in prison
by Paul Wang
He was accused of getting a HK$ 50 million flat in exchange for a radio license. Some 40 character witnesses came to his defence. The family will appeal.