24/11/2017 - INDIA
State elections are slated for 9 and 14 December. In a letter, the archbishop of Gandhinagar urges the faithful "to pray for good leaders", noting "a growing sense of insecurity among the minorities". However, reciting the Holy Rosary "will be of great help".
24/11/2017 - VATICAN
Migrants are not just Pope Francis's obsession
by Bernardo Cervellera
In his 2018 Message for World Peace Day, the pontiff cites John Paul II and Benedict XVI, who called for openness towards migrants and refugees and action to build the world as a "common home". Migrants are not just an economic burden, but are also players in "building peace", full of "courage, skills, energy, and aspirations." By visiting Romani people, Pope Paul VI showed the way.
24/11/2017 - SRI LANKA
Mgr Emmanuel Fernando, the new bishop of Mannar, in the service of Tamils
by Melani Manel Perera
Pope Francis appointed him bishop two days ago. He will meet diocese's staff to understand its most urgent needs. The province is still feeling the consequences of the country's civil war. The new bishop plans to continue in the footsteps of his predecessors. Politics and religion do not mix, but it is urgent to defend people.
24/11/2017 - VATICAN
Pope: Fr. Czerny, Peace Message urges the care of our common home
"Decision-makers should establish practical measures to welcome, protect, promote and integrate "and – so far as the good of their own community, rightly understood, permits – to further the aims of those who may wish to become members of a new society." At the same time, newcomers must not forget that they have a duty to respect the laws, culture and traditions of the countries where they are welcomed. "
24/11/2017 - CHINA – MYANMAR – BANGLADESH
Rohingya Crisis: Will China's Mediation Succeed?
by Sudha Ramachandran*
Beijing's intervention in the Rakhine conflict conceals economic and political interests. Beijing has already invested tens of billions in the region, building a deep-sea port for cargo ships, as well as oil and gas pipelines to Yunnan. Rakhine is an important component in Beijing's Belt and Road Initiative. Bangladesh is the second largest importer of Chinese weapons. Mediation will be difficult and may cause more violence.
24/11/2017 - VATICAN
Pope: to welcome, protect, promote and integrate those who are forced to migrate
In the message for the World Day of Peace, Francis states that all members of the one human family have the same rights to the goods of the earth, even migrants. "Those who, for what may be political reasons, foment fear of migrants instead of building peace are sowing violence, racial discrimination and xenophobia, which are matters of great concern for all those concerned for the safety of every human being."
24/11/2017 - BANGLADESH - MYANMAR
Bangladesh and Myanmar sign agreement on Rohingya repatriation
Dhaka authorities expect the repatriation to commence within two months. Aung San Suu Kyi has promised that transfers will be "safe and voluntary". Activists are concerned about the conditions of refugees, who no longer have the villages to return to.
23/11/2017 - VATICAN
Pope: praying for peace "in all lands devastated by war"
Francis led a prayer service for peace in South Sudan and the Democratic Republic of Congo. May the Lord "protect children who suffer from conflicts in which they have no part, but which rob them of their childhood and at times of life itself. How hypocritical it is to deny the mass murder of women and children!"
23/11/2017 - ​MYANMAR - VATICAN
"Hectic hours" before pope's arrival in Yangon, Catholics to help pilgrims
by Paolo Fossati
Some 200,000 people are expected at the solemn Mass at Kyaikkasan Grounds, including Buddhist and Muslim leaders. Some 6,000 kids will take part in the Mass for young people the next day. Filipinos, Australians and Thais are also expected for Pope Francis' apostolic journey. From our correspondent.
23/11/2017 - INDIA – THAILAND
Caritas Asia meets in Bangkok
by Nirmala Carvalho
Catholics reflect on how best to respond to emergencies. For Fr Frederick D'Souza, executive director of Caritas India, charities should "never forget the biological needs of women and girls." Caritas is helping the Rohingya.
23/11/2017 - SRI LANKA
Colombo school helps families and children's ward for World Day of the Poor
by Melani Manel Perera
Students from the Holy Family Convent school in Colombo helped two needy families and the Children's Ward in the Cancer Hospital in Maharagama. Students funded the three deeds with money from ticket sales to fellow students of a play, the 'Horror House', which they performed.
23/11/2017 - PAKISTAN
Pakistan's religious minorities underrepresented
by Kamran Chaudhry
Communities already living in fear suffer discrimination. Activists and politicians complain that whilst the number of seats in national and provincial assemblies has increased, reserved minority seats have not. Catholic bishops note that the current electoral system does not represent their communities. One lawmaker complains that her fellow parliamentarians are indifferent to the issue.
23/11/2017 - VATICAN
Pope: Women as defenders from the ideological colonization that indoctrinates young people
Old and new dictatorships take liberty and memory to impose an educational system. It is the mothers and women, the keepers of memory, of the dialect, "able to defend the history of a people" and "to convey the faith" which "theologians will explain".
23/11/2017 - BANGLADESH - VATICAN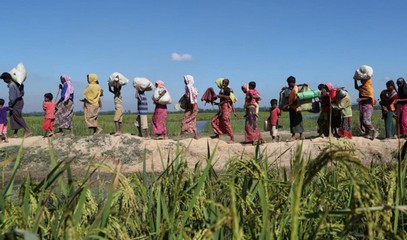 Cardinal D'Rozario: Pope's principal aim in Dhaka trip is not the Rohingya
by Sumon Corraya
The pontiff will visit Bangladesh from 30 November to 2 December. "The pope expressed the desire to come two years ago, when the refugee crisis had not broken out." Over 620,000 Muslims have fled the Rakhine State in Myanmar.
22/11/2017 - INDIA
Movie sparks Hindu nationalist protest, Bollywood star gets death threats
A local BJP politician offers rich reward to have actress Padukone and director Bhansali beheaded. Padmatavi's premiere has been postponed indefinitely. Alleged romantic scenes between a 13th century Hindu queen and a Muslim invader are the cause of the controversy.