10/12/2016 - JAPAN
The private institution has allowed its researchers to be part of the Ministry of Defense Program which provides technological studies in peaceful and military context: "This could be used against humanity without the approval of the scientists."
10/12/2016 - CHINA
Human Rights: letter to Xi Jinping for arrested Chinese writers
by Paul Wang
Signatories include: Salman Rushdie, Margaret Atwood, JM Coetzee. The memory of Liu Xiaobo, sentenced to 11 years in prison; his wife Liu Xia, under house arrest; Academician Ilham Tohti, sentenced to life imprisonment for his criticism of Beijing's policy towards the Uighurs.
09/12/2016 - VATICAN
Pope: Priests should not be "officials", or worldly or "intermediaries" of God's love
The authentic priest "is a mediator very close to his people," an official instead just does his job, but then moves onto another "always as an official", "he does not know what it means to get his hands dirty" be in the midst of reality. And that is why when "the priest changes from official to intermediary he is not happy, he is sad." And looks for a little bit of happiness "in being seen, making his authority felt".
09/12/2016 - VIETNAM - CHINA
South China Sea: Hanoi continues to build on disputed islands
Satellite images taken on November 30 show Vietnamese ships near the Ladd Reef, a small island in the Spratly. The military purpose of the new base is still unconfirmed, but it could trigger Beijing's ire.
09/12/2016 - TIBET - CHINA
Gansu, Tibetan self immolates invoking the Dalai Lama
The 146th immolation since 2009. Police have taken the victim's body. The scene was filmed. The Dalai Lama: "Safeguarding life as the highest" value.
09/12/2016 - SOUTH KOREA
South Korean parliament votes to impeach President Park Geun-hye
Members of her own party voted against her. Decision now rests with Constitutional Court. If ousted, Park would be the first South Korean president to undergo such a fate.
08/12/2016 - VATICAN
Pope's prayer for the Immaculate in Piazza di Spagna
by Papa Francesco
In homage to Mary in Piazza di Spagna, Pope Francis ideally brings the entire city of Rome and the world. He calls for an "immaculate heart" to love without" masks and ruses". He asserts the certainty of grace that wins over "discouragement". Afterwards, he visited S. Maria Maggiore.
08/12/2016 - VATICAN
Pope: God comes to dwell among us by means of a great Yes, that of Mary
On the Solemnity of the Immaculate Conception, Pope Francis compares man's 'No' before God to Mary's 'great Yes", "the most important in history". We are "experts in half Yeses" or 'missed Yeses'. He also mentioned the victims of the earthquake in Aceh (Indonesia), and invited the faithful to attend the homage to Mary in Piazza di Spagna this afternoon. The pope will also visit S. Maria Maggiore.
07/12/2016 - VATICAN
Pope: the secular state is a good thing, but laicism is old-fashioned
In an interview with a Belgian weekly, Francis criticises laicism that "closes the doors to transcendence", which instead is part of the human essence. "[N]o religion as such can foment war. Because in this case it would be proclaiming a god of destruction, a god of hatred." Synodality does not mean "descend[ing] from high to low"; it means instead "listen[ing] to the Churches, harmonis[ing] them, discern[ing]."
07/12/2016 - JAPAN
Fukushima: fish and shellfish no longer radioactive
Over the past five and a half years, the Fukushima fisheries experimental station analysed fish and shellfish samples. For the first time in years, radioactive cesium levels are within the safety limit.
07/12/2016 - CHINA
Workers of multinationals pulling out of China go on strike
by Wang Zhicheng
Clashes with police and arrests in the Danone and Sony factories. Also problems with Coca Cola. The workers fear that the new masters (Chinese) will cut jobs, lower their wages, impoverish working conditions. Apple, McDonald's, KFC and many other moving elsewhere because the cost of Chinese labor has grown and sales fall.
06/12/2016 - CHINA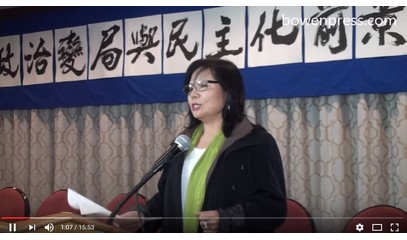 China's second child law has not improved its demographics nor its economy
by Jing Zhang
Women's Rights in China Director Jing Zhang was invited to give a speech at the conference "The Prospects for Democratization in China" organized by The China Democracy Forum, New York University (NYU) and Beijing Spring magazine. The theme of the conference was "The Match between Righteousness and Evil, The Responsibility and Choice of International Society" (see picture 1).
06/12/2016 - VATICAN
Pope: Judas, the "perfect lost sheep" who did not understand the tenderness of God
"May the Lord give us this grace, to wait for Christmas with our wounds, with our sins, sincerely recognized, to wait for the power of this God who comes to console, who comes with power, but his power is tenderness, caresses born from his heart, which was so good that he have his life for us. "


06/12/2016 - CHINA
It's official: China holds world record for pollution
The highly industrialized Beijing-Tianjin-Hebei region is also the most polluted. The problem stems from development model and the few investments in the environment sector. The government's broken promises.


05/12/2016 - VATICAN
Pope: "Give" our sins to God, so that he can transform us, "re-create us"
"God created the world; man fell into sin; Jesus comes to re-create the world. " The Lord "help us to prepare for Christmas with great faith", "because the healing of the soul, for the existential healing, the re-creation that Jesus brings takes great faith."