24/02/2017 - EGYPT – VATICAN – ISLAM
A symposium sponsored by the Al Azhar Centre for Dialogue and the Pontifical Council for Interreligious Dialogue ended yesterday in Cairo. Participants called for action against the root causes of extremism like "violence and poverty". Protecting young people, who are the most vulnerable to extremist ideologies, is a priority. Cutting funding and weapons to terrorist groups is another.
24/02/2017 - VATICAN
Pope: "In God, justice is mercy, and mercy is justice"
Do not give in to the "logic of casuistry" that reduces the faith in terms of "can" or "cannot", but follow the path of Jesus, "the path from case study to truth and mercy". Jesus says, "Whoever divorces his wife and marries another commits adultery against her", but he spoke "many times with an adulteress." And in the end he said: "I do not condemn you. Sin no more. "


23/02/2017 - VATICAN
Pope: do not give scandal with a double life, but converted soon
"It would be good for all of us, each one of us, today, to consider if there is something of a double life within us: 'But, sure, the Lord will eventually forgive everything, but I'll keep going as I have been…' If there is something saying, "Sure, this is not going well, I will convert, but not today: tomorrow.' Let's think about that. And let us profit from the Word of the Lord and consider the fact that on this point, the Lord is very strict. Scandal destroys. "


22/02/2017 - VATICAN
Pope: sin has also ruined creation, but we know that God is preparing "a new earth"
"Human pride, exploiting Creation, destroys. However, the Lord does not leave us alone and, even in this desolate picture, He offers us a new prospect of liberation, of universal salvation." For South Sudan, where "a serious food crisis is underway which condemns millions of people to death by starvation, including many children", "declarations are not enough, concrete aid is needed".


21/02/2017 - VATICAN
Pope: May "holy shame" defend us from the temptations of ambition, worldliness
"Sometimes we say it with shame we priests, we priests: 'I wish for that parish ...' - 'But the Lord is here ...' - 'But I would like that ...'. The same. Not the way of the Lord, but that road of vanity, worldliness. Even among us bishops the same happens: worldliness becomes as temptation. "


21/02/2017 - VATICAN
Pope: it is "our duty" to welcome, protect, promote and integrate migrants
"The human promotion of migrants and their families begins with their communities of origin. That is where such promotion should be guaranteed, joined to the right of being able to emigrate, as well as the right to not be constrained to emigrate." "In the face of tragedies which take the lives of so many migrants and refugees – conflicts, persecutions, forms of abuse, violence, death – expressions of empathy and compassion cannot help but spontaneously well-up."


20/02/2017 - Vietnam
Vietnam remembers Father Malo, a missionary who loved Asia very much
by Thanh Thuy
A Mass was celebrated in Vinh, but Mgr Girelli was not allowed to lead the service. Still, "love always leads us to victory. It is the reality that is needed to build our future in a climate of peace."
20/02/2017 - CHINA – VATICAN
Funeral of Mgr Casimir Wang Milu: full of love for God and the poor
by Elizabeth Li
Thousands of people, along with scores of priests and some underground bishops, took part in the funeral. He had spent ten years in prison.
19/02/2017 - VATICAN
Pope: Christians have "a duty" to do justice, but "it is forbidden to" seek revenge
Jesus asks his disciples to suffer the bad, in fact, he asked them to react, however not with another evil, but with good. A prayer for the victims of violence in the Central Kasai region of the Democratic Republic of the Congo, in particular child soldiers, and those affected by the attacks in Pakistan and Iraq.
18/02/2017 - CHINA - VATICAN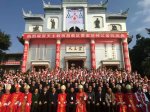 Chinese Catholic: the power to appoint bishops belongs only to the Church
by Baoluo Jiaoyou (保罗教友)
Criticism of Card. Tong's proposal to allow the Chinese government the function to appoint bishops in some way. In the proposed agreement between China and the Holy See, the latter would only have a veto power - not conclusive - on the proposed candidates.
17/02/2017 - VATICAN
Pope: Unity in Diversity, where there is no dialogue there is violence
Visiting the University of Roma Tre, Francis answers questions from students. The fundamental importance of dialogue, the search for "truth, goodness and beauty"; unity that needs differences; integration and "respect" as a response to the fear of the migrant, "but each country has to see what number it can accommodate. It's true: you cannot welcome [migrants] if there are no possibilities[for them]".
16/02/2017 - VATICAN
Pope: "inclusion enriches every community and society"
Francis met with a delegation of athletes from Special Olympics, a global organisation present in 170 countries dedicated to sports for youth and adults with mental disabilities. " Sport also helps us to spread a culture of encounter and solidarity," said the pontiff. "Together, athletes and helpers show us that there are no obstacles or barriers which cannot be overcome."
16/02/2017 - VATICAN
Pope: we must keep the peace, but it is not easy because war begins in the human heart
"Within each of us is that seed of original sin, that is, the spirit of Cain which – for envy, jealousy, greed, and the desire to dominate – leads to war ". " give us the grace to say: 'War is finished, crying. War is finished in my heart; war is finished in my family; war is finished in my neighborhood; war is finished in my workplace; war is finished in the world.' In this way shall the dove, rainbow, and Covenant be strengthened".


16/02/2017 - CHINA-VATICAN
Chinese priest: The life of the faithful is the same with or without China-Holy See agreements
by Shan Ren Shen Fu
The majority of Chinese faithful have no interest in China-Vatican dialogue. They are not affected by the Patriotic Association. This is a mere instrument of government policy.


15/02/2017 - CHINA – VATICAN
Chinese priests: changing the essence of the Patriotic Association is a vain hope
Card John Tong's article on the future of Sino-Vatican dialogue continues to make waves. For one underground priest, the article encourages them to join the Patriotic Association. For an official priest, the Chinese government retains the authority to appoint bishops. Both clergymen believe that there is no difference between "full freedom" and "necessary freedom". The bishop of Shanghai stands as a bitter example.