18/01/2018 - EGYPT – LEBANON
A conference was held on 16-17 January at al-Azhar. Many prominent figures from Lebanon took part, including the Maronite Patriarch Bechara Al-Rahi. The Arab world is divided between "complicit passivity" and "noisy but ineffective speeches". For a former Lebanese premier, coordinated actions are needed to ensure greater efficacy on behalf of Jerusalem's "pluralistic identity " and "religious freedom". Card Al-Rahi called for joint prayers, Islamic-Christian interfaith solidarity in the Arab world, and support for the Palestinians.
by Fady Noun
18/01/2018 - PAKISTAN
1800 Pakistani Imams issue a 'fatwa' against suicide attacks
The Islamic directive is contained in the book "Pakistan's Message", published by the government of Islamabad. President of Pakistan: "Building a moderate Islamic society". The kamikaze attacks are "haram" (forbidden) and violate the principles of the Koran.
17/01/2018 - EGYPT
North Sinai, a young Copt killed: he had a cross tattooed on his wrist
The killers promise to "kill more Copts". Bassem Herz Attalhah was killed under the eyes of his brother, who saved himself because his tattoo was hidden by his sleeve. Already in 2010 al Qaeda had promised to clean Sinai from Christians.
16/01/2018 - PAKISTAN
'I don't want to be next': children protest following Zainab's rape and murder (Photos)
by Shafique Khokhar
The Cecil & Iris Chaudhry Foundation organised a rally in Lahore. Sexual violence against minors is a scourge in Pakistan. A series of proposals is presented to protect defenceless children.
15/01/2018 - PAKISTAN
Lahore, Child protection policies more important than countering terrorism
by Kamran Chaudhry
Activists demand policies and laws for the protection of minors. Disdain and protests for the rape and murder of seven year old Zainab. In the first six months of 2017, 1764 cases of child abuse. Of these, about 62% occurred in Punjab. In Lahore, the first child protection unit in all of South Asia. Prohibit child marriage and corporal punishment in schools.
15/01/2018 - IRAQ
Baghdad, twin bombing leaves 26 dead and 90 wounded. Msgr. Warduni: destabilizing acts
Central sector of the capital targeted. Day labourers gather in the areas waiting for call up. Interior sources: Death toll destined to increase. Auxiliary of Baghdad: Tensions fuelled by delay in budget approval and the next parliamentary elections, scheduled for May.
13/01/2018 - TURKEY – UNITED STATES
Ankara warns against travelling to the US due to the risk of attacks and arbitrary arrests
The Turkish government issued an advisory to its citizens to take further precautionary measures. The move appears to be in retaliation for a similar statement by the US. Turkey's the statement warns that Turks may be subjected to arbitrary detentions based on testimonies of unrespected sources. It also points to the danger of terrorism.
13/01/2018 - PHILIPPINES
Marawi bishop returns to the cathedral devastated by violence
"It was heart-breaking," said Mgr Dela Peña who led a prayer around the altar of the church desecrated by terrorists. Reconciliation between Christians and Muslims is fundamental. The Catholic Church is helping people affected by the conflict with an assistance programme.
13/01/2018 - SAUDI ARABIA
Women allowed in Jeddah motor show
The women-only event is held for the first time in the Saudi kingdom. Crown Prince Mohammed bin Salman's attempts to modernise the kingdom continue.
12/01/2018 - PAKISTAN
Pakistan mourns child raped, killed and thrown into a rubbish dump
Zainab was seven years old and lived near Lahore. The Government of Punjab is offering a reward of US$ 90,000 to anyone who can help police find the murderer. Yesterday two more children were killed in the province, triggering two parallel investigations. The entertainment industry and the sports world have denounced the "violated rights of minors".
12/01/2018 - IRAN - EU - USA
Europe against Trump, try to save the Iranian nuclear deal
London, Paris and Berlin are working to preserve an pact essential for international security. The JCPO must be maintained, while imposing new "red lines" on the Islamic Republic. But the unpredictability of the US president weighs on efforts. White House decision on the extension of the terms expected today.
11/01/2018 - PAKISTAN
For Pakistani activists, a "rape culture" places no value in children
by Shafique Khokhar
The country mourns Zainab, 7, from near Lahore. Her body, left in a rubbish dump, shows signs of torture. The "culture of rape" feeds on a cultural background defined by the division between men and women, misogyny, and abuses in madrassas.
11/01/2018 - PAKISTAN
Pakistani Church condemns the 'brutal' rape and murder of a 7-year-old girl
by Kamran Chaudhry
Zainab lived in Kasur, near Lahore. Her small body found in a landfill. She was raped several times and strangled to death. Protests against police inaction. An awareness campaign to eradicate "the cancer of pedophilia".
11/01/2018 - IRAN
Tehran changes law on drug trafficking, sparing thousands sentenced to death
Up to 5 thousand people on death row. Head of the judiciary: all convictions will be reviewed. Human rights activists: If applied appropriately, it represents a "significant step" in reducing the death penalty. Since 1998, the Islamic Republic has executed almost 10 thousand people for drugs.
09/01/2018 - PAKISTAN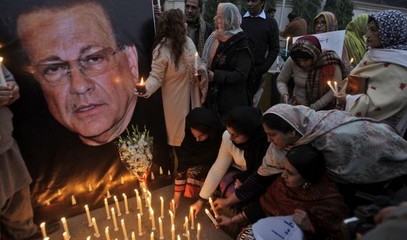 Salman Taseer's heirs commemorated him in private, oppose extremism
by Shafique Khokhar
Human Rights Focus Pakistan held a ceremony in Faisalabad. Christians and Muslims of good will work across the country against discrimination and the persecution of minorities. Taseer's struggle continues with others bearing the torch.