01/03/2017 - VATICAN
In an article she cites the lack of resources, inadequate staff, slow progress, and cultural reluctance as her reasons to quit. She especially mentions resistance by people and offices of the Roman Curia to the Commission's recommendations "despite their approval by the pope". She will nevertheless continue to cooperate with the Commission in an "educational role."
01/03/2017 - VATICAN
Pope: Lent, "the path from slavery to freedom", "from death to life"
Francis celebrates Ash Wednesday. Lent is "a time of grace" which recalls "the breath" of the creator, time to free ourselves from asphyxiation selfishness, to say no to pollution caused by indifference, hypocrisy that soothes the conscience, to ask ourselves " what would become of us if God had closed the doors? ".


01/03/2017 - VATICAN
Pope: Lent, a journey of hope, because "oriented" towards Easter
"The fact that Jesus has opened the way for eternal life" does not mean that He has done it all and we must not do anything, that he has passed through the Cross, and we 'go to heaven in a carriage'. Not so. Our salvation is certainly his gift, but because it is a love story, it requires our 'yes' and our participation, as demonstrated by our Mother Mary, and after her, all the saints. "
28/02/2017 - VATICAN
Pope: each country should accept all the migrants it can accommodate
In an interview, Francis stressed the need to integrate and not ghettoise those fleeing war or famine. The latter have a right to emigrate. A homeless Polish man attended seminary with John Paul II.
28/02/2017 - INDONESIA
Continuing education programme for diocesan priests in Sumatra
by Mathias Hariyadi
"For seven years the plan has been is carried out with different participants," said Fr Sutapa, a former educator at the St Peter major seminary in Pematang Siantar, with "priests from Palembang with less than five years of service, priests from Tanjungkarang with less than ten years, and priests from Padang with more than ten years."
28/02/2017 - VATICAN
Pope: those who follow Jesus and "leave everything", "will receive everything"
"Jesus gives all of himself, because the fullness, the fullness of God is fullness that is annihilated on the Cross." "This is the gift of God: annihilated fullness. And this is the style of the Christian: to seek fullness, to receive the annihilated fullness and follow that road. "


26/02/2017 - VATICAN
Pope: God is not distant and anonymous, he is our refuge
During the Angelus, Pope Francis called on everyone to rediscover that God is Father "in this age of orphanhood". The "obsessive search for earthly goods and riches" is an "illusion and a cause of unhappiness". Entrusting oneself to the love of the Father enables us to overcome "the torments and adversities of life, even persecution, as the testimonies of so many of our brothers and sisters show." The pontiff greeted groups involved in 'Rare Disease Day'.
25/02/2017 - INDONESIA – SAUDI ARABIA
Oil. Pilgrimage, and Saudi king's visit to Indonesia
by Mathias Hariyadi
On 1 March, King Salman will arrive in Jakarta on an official visit. Breaking with Protocol, President Widodo will welcome him in person at the airport. The Saudi monarch will travel with an entourage of about 1,500 people, including government ministers and princes. The visit includes a short vacation in Bali.
24/02/2017 - INDONESIA
Standoff between Indonesia and US mining giant Freeport McMoRan
On 10 February, Freeport-McMoRan discontinued its mining activities, leaving thousands of Indonesians out of work. The reason is a dispute over fees and contract to be renegotiated by the company and the authorities.
24/02/2017 - VATICAN
Pope: "In God, justice is mercy, and mercy is justice"
Do not give in to the "logic of casuistry" that reduces the faith in terms of "can" or "cannot", but follow the path of Jesus, "the path from case study to truth and mercy". Jesus says, "Whoever divorces his wife and marries another commits adultery against her", but he spoke "many times with an adulteress." And in the end he said: "I do not condemn you. Sin no more. "


23/02/2017 - INDONESIA
Catholic programme Hidup TV launched
It provides three hours of content a day. According to Indonesia's Ministry of Information and Communications, 63 million Indonesians use the internet every day. The country is ranked fifth (after the US, Brazil, Japan and the UK) in terms of use of social media like Twitter and Facebook.
23/02/2017 - VATICAN
Pope: do not give scandal with a double life, but converted soon
"It would be good for all of us, each one of us, today, to consider if there is something of a double life within us: 'But, sure, the Lord will eventually forgive everything, but I'll keep going as I have been…' If there is something saying, "Sure, this is not going well, I will convert, but not today: tomorrow.' Let's think about that. And let us profit from the Word of the Lord and consider the fact that on this point, the Lord is very strict. Scandal destroys. "


22/02/2017 - VATICAN
Pope: sin has also ruined creation, but we know that God is preparing "a new earth"
"Human pride, exploiting Creation, destroys. However, the Lord does not leave us alone and, even in this desolate picture, He offers us a new prospect of liberation, of universal salvation." For South Sudan, where "a serious food crisis is underway which condemns millions of people to death by starvation, including many children", "declarations are not enough, concrete aid is needed".


21/02/2017 - INDONESIA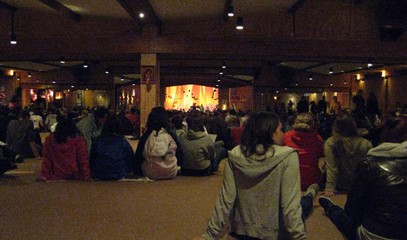 Taizé meeting for youth in Jambi to learn the true love of Jesus in their lives
by Mathias Hariyadi
Kristopel House in Jambi held a meeting to strengthen Catholic morality and raise awareness of the true love of Jesus. About 250 young people from many parishes in the province took part in the event. Fr Christopher Wahyu Triharyardi told AsiaNews that spiritually participants were made aware of the real presence of God as well as love for family and neighbours in everyday life.
21/02/2017 - VATICAN
Pope: May "holy shame" defend us from the temptations of ambition, worldliness
"Sometimes we say it with shame we priests, we priests: 'I wish for that parish ...' - 'But the Lord is here ...' - 'But I would like that ...'. The same. Not the way of the Lord, but that road of vanity, worldliness. Even among us bishops the same happens: worldliness becomes as temptation. "