18/02/2017 - INDONESIA
She won in Singkawan (West Kalimantan) defeating three competitors. She follows Confucianism. The city is majority Chinese, where everyone speaks the Hakka language.
by Mathias Hariyadi
18/02/2017 - KOREA - MALAYSIA
North Korean arrested in connection with the murder of Kim Jong-nam
So far, suspects included an Indonesian, her Malaysian boyfriend, and a Vietnamese. Silence in Pyongyang. But the North Korean ambassador in Kuala Lumpur demands that the autopsy be carried out in the presence of his representatives. Hypothesis for murder: He did not obey his brother's order to return home. Kim Jong-nam was seeking asylum in a foreign country.
17/02/2017 - BANGLADESH
After a young Muslim is killed in Lokhipur, Catholics feel threatened and flee
by Sumon Corraya
The murder of a young man, who had a criminal record, has become a pretext for hatred against the Christian community. As the investigation gets underway, some local Muslims have threatened retaliation: "They killed one of ours, we will kill ten of them." Christian leaders fear becoming targets, "ask for security".
17/02/2017 - MYANMAR
A former officer behind Muslim lawyer's murder but doubts about the official version remain
by Francis Khoo Thwe
President's Office reports that Ko Ni was killed by Aung Win Khaing, a former senior army officer, in order to destabilise the country at a time of strong ethnic and sectarian tensions. Many "people continue to wonder who the true instigator is, and what is behind the murder," source tells AsiaNews.
17/02/2017 - VATICAN
Pope: Unity in Diversity, where there is no dialogue there is violence
Visiting the University of Roma Tre, Francis answers questions from students. The fundamental importance of dialogue, the search for "truth, goodness and beauty"; unity that needs differences; integration and "respect" as a response to the fear of the migrant, "but each country has to see what number it can accommodate. It's true: you cannot welcome [migrants] if there are no possibilities[for them]".
17/02/2017 - THAILAND
Buddhist Supreme Patriarch tells Muslims and Hindus that living peacefully together is the goal of every religion's teachings
Taan Chao Khun Phra Somdej Ariyawongsagatanana met the representative of the advisor to the king on Islamic affairs and the head of the Hindu community. Teaching religion is key to peaceful coexistence between the communities. "In Thailand, everyone is free to profess their religion and there is no difference among the believers."
16/02/2017 - SINGAPORE
Singapore cathedral reopens after three years of restoration (video)
The restoration work was completed in November 2016. The cathedral's dedication will be marked by 12 days of celebration. Many government officials were present at the event. Singapore's oldest Catholic church has a long history. For Archbishop William, it is true image of the "Mother Church."
16/02/2017 - VATICAN
Pope: "inclusion enriches every community and society"
Francis met with a delegation of athletes from Special Olympics, a global organisation present in 170 countries dedicated to sports for youth and adults with mental disabilities. " Sport also helps us to spread a culture of encounter and solidarity," said the pontiff. "Together, athletes and helpers show us that there are no obstacles or barriers which cannot be overcome."
16/02/2017 - VATICAN
Pope: we must keep the peace, but it is not easy because war begins in the human heart
"Within each of us is that seed of original sin, that is, the spirit of Cain which – for envy, jealousy, greed, and the desire to dominate – leads to war ". " give us the grace to say: 'War is finished, crying. War is finished in my heart; war is finished in my family; war is finished in my neighborhood; war is finished in my workplace; war is finished in the world.' In this way shall the dove, rainbow, and Covenant be strengthened".


16/02/2017 - VIETNAM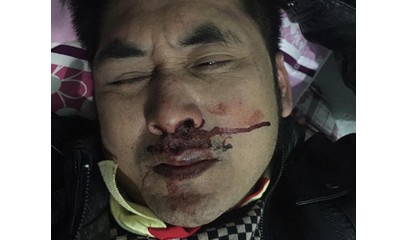 Catholics assaulted by police for rallying against nation's worst environmental disaster
by Joseph Nguyen
The protest of the faithful of Song Ngoc parish to raise public awareness. The pastor wounded. Protesters braved police beatings and injuries. Ten months ago a Formosa plant dumped 12 thousand cubic meters of toxic liquid at sea. The central regions of the country are on their knees, compensation of 500 million dollars has never been distributed to the population.


16/02/2017 - KOREA-MALAYSIA
Women suspected of Kim Jong-nam murder arrested
One has an Indonesian passport; the other Vietnamese. The Malaysian police thinks that four men are also implicated. Visits by Pyongyang embassy representatives to the Kuala Lumpur forensic center. Increase protection for all high-profile North Korean refugees in Seoul.


16/02/2017 - INDONESIA
Elections in Jakarta: Election of governor goes to run off
by Mathias Hariyadi
In the first round the outgoing governor "Ahok", a Christian at the center of a story of a blasphemy case, won 43% of the votes. His rival Baswedan, a Muslim, just below the 40% threshold. Decisive 17% of the votes won by the eldest son of former President Yudhoyono. The vote took place without incident. Second round to be held on 19 April.


15/02/2017 - THAILAND
Thai cardinal offers cooperation to new Buddhist patriarch for the nation's peace
by Weena Kowitwanij
The archbishop of Bangkok and president of the Bishops' Conference met Umporn Umparow. The cardinal said that the common goal is "peaceful coexistence" and making Thailand a "model" for other nations. Catholics admire the new Patriarch for his "irreproachable behaviour".
15/02/2017 - VATICAN
Pope: Hope is "certain", based on the fact that God is right here with all of us
It is "an extraordinary gift of which we are called to make ourselves "channels" for all, with humility and simplicity". "We are invited to boast of the abundance of grace of which we are pervaded in Jesus Christ, through faith" and "our greatest pride is to have God as a Father who has no preference, who excludes no one, but who opens his home to all human beings, beginning with the last and most distant".



14/02/2017 - PHILIPPINES
For Justice and Peace Forum, the cry of the earth is also the cry of the poor
The 10th meeting of the Justice and Peace Workers' Asia-Pacific Forum is underway in Manila to review and boost their response to today's challenges, in particular climate change, environmental degradation, and their impact on the marginalised.