22/02/2017 - VATICAN
"Human pride, exploiting Creation, destroys. However, the Lord does not leave us alone and, even in this desolate picture, He offers us a new prospect of liberation, of universal salvation." For South Sudan, where "a serious food crisis is underway which condemns millions of people to death by starvation, including many children", "declarations are not enough, concrete aid is needed".


22/02/2017 - INDIA
Punjab Church launcehs "Sport for young people" against drug abuse
by Santosh Digal
Eight hockey coaches give lessons to 540 children and young people, most of which have dropped out of school or are unemployed. The state has the highest rate of crimes linked to drug use. The program was conceived by the Social Service of the Diocese of Jalandhar, in collaboration with Caritas India.


21/02/2017 - INDONESIA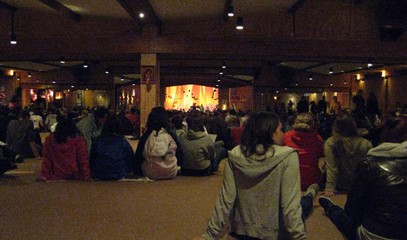 Taizé meeting for youth in Jambi to learn the true love of Jesus in their lives
by Mathias Hariyadi
Kristopel House in Jambi held a meeting to strengthen Catholic morality and raise awareness of the true love of Jesus. About 250 young people from many parishes in the province took part in the event. Fr Christopher Wahyu Triharyardi told AsiaNews that spiritually participants were made aware of the real presence of God as well as love for family and neighbours in everyday life.
21/02/2017 - INDIA
The passion of Jesus drove Franciscan Sister to build 54 houses for the poor in Kerala
by Santosh Digal
Sister Lizzy Chakkalakal heads Our Lady's Convent Girls Higher Secondary School in Kochi. In 2012 she provided the first house to a needy family. For her, "the birth of a culture of sharing and mutual care among local people" is more important than just providing housing.
21/02/2017 - VATICAN
Pope: it is "our duty" to welcome, protect, promote and integrate migrants
"The human promotion of migrants and their families begins with their communities of origin. That is where such promotion should be guaranteed, joined to the right of being able to emigrate, as well as the right to not be constrained to emigrate." "In the face of tragedies which take the lives of so many migrants and refugees – conflicts, persecutions, forms of abuse, violence, death – expressions of empathy and compassion cannot help but spontaneously well-up."


21/02/2017 - BANGLADESH
Khulna, Islamic leader promises protection to Christians and Hindus
by Sumon Corraya
The Commission for Dialogue and Ecumenism organized a workshop, attended by Catholics, Hindus and Muslims. "Politicians often work only for their own benefit." "Christians must create more interfaith seminars to reduce religious fanaticism in Bangladesh"



20/02/2017 - Vietnam
Vietnam remembers Father Malo, a missionary who loved Asia very much
by Thanh Thuy
A Mass was celebrated in Vinh, but Mgr Girelli was not allowed to lead the service. Still, "love always leads us to victory. It is the reality that is needed to build our future in a climate of peace."
20/02/2017 - INDIA
World Day of Social Justice: for auxiliary bishop of Mumbai, people must come before profits
The United Nations established the day in 2007 to highlight global issues like poverty, exclusion, employment, and gender equality. For Mgr D'Silva, violence is the result of inequalities. Existing economic structures must be revisited out of "compassion for our brothers and sisters".
20/02/2017 - PHILIPPINES
Protests continue for the war against drugs and the decision to reinstate the death penalty
More than 20 thousand faithful gathered in Manila to pray, march and protest against the "reign of terror" operated by President Rodrigo Duterte. In recent months, the campaign of violence has resulted in about 7 thousand victims including drug addicts and drug dealers.


18/02/2017 - INDIA
Mumbai, Mary's Clan 30 years of palliative care for alcoholics and the abandoned
by Nirmala Carvalho
The rehabilitation center was opened in 1983. Since then he has welcomed 350 patients, accompanying them to the end of life. Patients often recover relationships with families. "This is because palliative care addresses hope and the basic needs of everyone: humanity."
17/02/2017 - VATICAN
Pope: Unity in Diversity, where there is no dialogue there is violence
Visiting the University of Roma Tre, Francis answers questions from students. The fundamental importance of dialogue, the search for "truth, goodness and beauty"; unity that needs differences; integration and "respect" as a response to the fear of the migrant, "but each country has to see what number it can accommodate. It's true: you cannot welcome [migrants] if there are no possibilities[for them]".
16/02/2017 - SRI LANKA
As the government comes out in favour of abortion, Bishops' conference calls on Catholic believers and politicians to oppose it
by Melani Manel Perera
Every year, 400,000 women become pregnant in Sri Lanka. Some 15,000 resort to illegal abortions and ten die each year. A report by the Health Ministry last year says that 658 abortions occur each day.
13/02/2017 - INDIA
Some 200,000 people celebrate centennial of Our Lady of Lourdes shrine in Odisha
by Purushottam Nayak
The shrine opened on 11 February 1917 on the initiative of the local population that survived an outbreak of cholera and smallpox in 1866. The Missionaries of St Francis de Sales d'Annecy were the first to bring relief. The faithful give thanks for miraculous healings.
10/02/2017 - THAILAND
Thai Bishop on World Day of the Sick
by Weena Kowitwanij
Mgr Philip Banchong Chaiyara sent a letter to the faithful, exhorting them to meditate on the pope's message, attend mass, and visit the sick.
08/02/2017 - INDIA
Indian nun sees cry for life in the eyes of children used as slaves
by Gracy Rodrigues*
Today marks the third international day of prayer and reflection against human trafficking, instituted by Pope Francis to fall on the liturgical memorial of St Josephine Bakhita. Sister Gracy belongs to the Asian Movement of Women Religious Against Human Trafficking. Various initiatives are set to take place worldwide against slavery.