24/05/2017 - VATICAN – CHINA
Gray pragmatism is rooted in Deng Xia Ping's maxim 'It doesn't matter whether a cat is white or black, as long as it catches mice'. Today this means it is impossible to distinguish white from black, what is true from what is false. Heroes of the faith are thus challenged by wolves in sheep's clothing.
24/05/2017 - VATICAN – CHINA
AsiaNews Symposium: We entrust the evangelisation of China to Our Lady of Sheshan, says Fr Cervellera
AsiaNews editor welcomes participants to the Symposium 'China: the Cross is the Red." The Patriotic Association shows off its power, claiming for example the right to appoint bishops. Sometimes underground Christians turn inward. Perhaps, diplomatic agreements and relations are not so important. Despite its atheist government, 85 per cent of China's population adheres to some kind of faith.
24/05/2017 - VATICAN – CHINA
AsiaNews Symposium: The government's one-dimensional culture will not prevail over religion, says Richard Madsen
A policy seeking "a one-dimensional, rigidly unified culture [. . .] would only superficially cover the dynamic diversity of multi-dimensional Chinese lives". Religious sentiments have survived and are now undergoing a renaissance. "Marxist ideology was too thin to substitute for the multiple dimensions of Chinese culture. The "flattened official ideology" has failed. The Catholic Church has to deal with Xi Jinping's 'sinicisation' policy.
24/05/2017 - PAKISTAN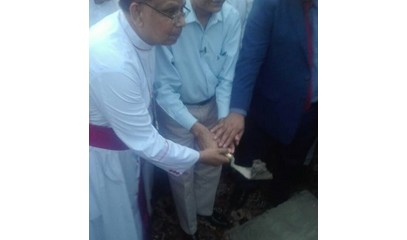 Faisalabad to have first university chapel in Pakistan
by Kamran Chaudhry
The place of worshipp will be built at the Faisalabad University of Agriculture. The project was approved after three years of discussion. The founding stone lain on May 18th. The structure will cost about 65 thousand euros, of which more than 25,000 donated by the diocese. Catholic professor: "It is not a favor of the administration. In all universities there should be churches, temples and gurdwara. "
24/05/2017 - GREAT BRITAIN - ISLAM
Manchester Police: Salman Abedi, 22, Libyan parents, likely author of the attack
He had abandoned university, and according to some, had become radicalized. His father and brother were well-known in the mosque for their service and volunteerism. Great gathering places appear increasingly "vulnerable".
23/05/2017 - SOUTH KOREA
Park denies all charges to court
Geun-hye Park arrived in a handcuffed court. This is the third former president to be overwhelmed by corruption scandals. The sentence is expected within six months. A separate trial for the Samsung leaders.
23/05/2017 - ASIA-G.BRITAIN
Manchester attack. Condolences of Xi Jinping, Modi and Card. Gracias
At least 22 dead and 50 injured. Suspicion of a lone bomber. Solidarity with British people expressed by th Chinese president and the Indian premier. The Archbishop of Mumbai: The Church in Asia is mourning for the loss of lives, our heart suffers with families and we pray to God to console them. May Our Lady of Fatima touch the hearts of those who have perpetrated the massacre.
22/05/2017 - NEPAL
Everest's Hillary Step collapses
British climber Tim Mosedale confirms the destruction, caused perhaps by the April 2015 quake. The outcrop was named after the first climber who reached the top of the world's tallest mountain in 1953.
22/05/2017 - TAIWAN – CHINA
China gets Taiwan excluded from WHO
Taiwan's Health Minister was excluded today from the World Health Assembly in Geneva, despite support from many states, because of its refusal to endorse the One-China principle. The World Health Organisation's travel budget is greater than some public health emergencies.
22/05/2017 - KOREA
Seoul claims Kim missiles cannot reach Guam
The target is the Pacific island that serves as a US military base for operations in Asia. It is 3500 kilometers away from North Korea. South Korea also cautions about North Korean missile's ability to re-enter the atmosphere. Kim Jong-un publishes photographs of Earth taken from the missile tested Sunday to prove possession of the technology needed for intercontinental missiles
22/05/2017 - IRAN-SAUDI ARABIA
Zarif: Trump 'pumping' Saudi Arabian money
Teheran's first reaction to the speech by the US President in Riyadh, in front of 35 heads of state. For Trump and King Salman Iran "supports, arms and trains terrorists, militias." Contracts signed between US and Saudi for about $ 400 billion in arms supplies and security.
20/05/2017 - JORDAN – MIDDLE EAST
Advance research centre in Amman stronger than Mideast wars and divisions
Sesame is the result of cooperation between the region's governments and scientists, including Iran, Israel, and Egypt. The facility hosts a synchrotron that can help understand cancerous tissue, ancient scrolls, seeds, and plants. This might be the start of a new era in collaborative science. For an Iranian scientist, "Science is different from politics."
20/05/2017 - IRAN
Hassan Rouhani wins a second term in Iran's election
The president gets 57 per cent of the vote to defeat right-wing candidate Ebrahim Raisi. At 70 per cent, turnout was unexpectedly high.
20/05/2017 - VATICAN
Pope on Centesimus Annus calls for alternative ways to deal with economics, poverty, and unemployment
Pope Francis praised the Centesimus Annus Foundation for its work inspired by the Church's social doctrine. In economics and business, " things can change," the pope said. For him, poverty is "a human and not merely economic phenomenon." Unemployment has "reached truly dramatic proportions in both developed and developing countries".
20/05/2017 - PAKISTAN
Caritas warns of a humanitarian crisis in Sindh where drought has killed 1,340 children
by Kamran Chaudhry
Local authorities admit the death toll before province's high court with Tharparkar as the most affected district. Rain is the only source of water. The Church's main charity set up a food security programme in 2014.