19/02/2017 - VATICAN
Jesus asks his disciples to suffer the bad, in fact, he asked them to react, however not with another evil, but with good. A prayer for the victims of violence in the Central Kasai region of the Democratic Republic of the Congo, in particular child soldiers, and those affected by the attacks in Pakistan and Iraq.
18/02/2017 - INDIA
Mumbai, Mary's Clan 30 years of palliative care for alcoholics and the abandoned
by Nirmala Carvalho
The rehabilitation center was opened in 1983. Since then he has welcomed 350 patients, accompanying them to the end of life. Patients often recover relationships with families. "This is because palliative care addresses hope and the basic needs of everyone: humanity."
18/02/2017 - CHINA - VATICAN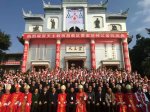 Chinese Catholic: the power to appoint bishops belongs only to the Church
by Baoluo Jiaoyou (保罗教友)
Criticism of Card. Tong's proposal to allow the Chinese government the function to appoint bishops in some way. In the proposed agreement between China and the Holy See, the latter would only have a veto power - not conclusive - on the proposed candidates.
18/02/2017 - PAKISTAN
Pakistani police kill over 100 terrorists in raid following Sufi temple attack
by Shafique Khokhar
The suicide attack in Sindh killed more than 80 people gathered in prayer. The National Action Plan against Terrorism was approved, but lacks the political will to put it into practice. "We must eliminate the Islamic religious element in the Constitution".
18/02/2017 - INDONESIA
Ms. Chui Thjai Mie, first Indonesian Chinese woman to become mayor
by Mathias Hariyadi
She won in Singkawan (West Kalimantan) defeating three competitors. She follows Confucianism. The city is majority Chinese, where everyone speaks the Hakka language.
18/02/2017 - IRAN
Iran discovers huge oil and gas fields. Target of 50 billion in profits for 2018
According to head of NIOC a dozen new fields with a total reserve of 30 billion barrels has been found. 128 thousand billion cubic meters of natural gas discovered. Oil Minister: daily exports of 2.8 million barrels, equivalent to pre-sanctions period.
18/02/2017 - KOREA - MALAYSIA
North Korean arrested in connection with the murder of Kim Jong-nam
So far, suspects included an Indonesian, her Malaysian boyfriend, and a Vietnamese. Silence in Pyongyang. But the North Korean ambassador in Kuala Lumpur demands that the autopsy be carried out in the presence of his representatives. Hypothesis for murder: He did not obey his brother's order to return home. Kim Jong-nam was seeking asylum in a foreign country.
17/02/2017 - SAUDI ARABIA
First woman to head Saudi stock exchange
NCB Capital Co. CEO Sarah Al Suhaimi gets to run the Mideast's largest bourse. For Saudi women, thanks to their foreign education, the financial sector provides greater space for their social and professional development.
17/02/2017 - BANGLADESH
After a young Muslim is killed in Lokhipur, Catholics feel threatened and flee
by Sumon Corraya
The murder of a young man, who had a criminal record, has become a pretext for hatred against the Christian community. As the investigation gets underway, some local Muslims have threatened retaliation: "They killed one of ours, we will kill ten of them." Christian leaders fear becoming targets, "ask for security".
17/02/2017 - MYANMAR
A former officer behind Muslim lawyer's murder but doubts about the official version remain
by Francis Khoo Thwe
President's Office reports that Ko Ni was killed by Aung Win Khaing, a former senior army officer, in order to destabilise the country at a time of strong ethnic and sectarian tensions. Many "people continue to wonder who the true instigator is, and what is behind the murder," source tells AsiaNews.
17/02/2017 - VATICAN
Pope: Unity in Diversity, where there is no dialogue there is violence
Visiting the University of Roma Tre, Francis answers questions from students. The fundamental importance of dialogue, the search for "truth, goodness and beauty"; unity that needs differences; integration and "respect" as a response to the fear of the migrant, "but each country has to see what number it can accommodate. It's true: you cannot welcome [migrants] if there are no possibilities[for them]".
17/02/2017 - THAILAND
Buddhist Supreme Patriarch tells Muslims and Hindus that living peacefully together is the goal of every religion's teachings
Taan Chao Khun Phra Somdej Ariyawongsagatanana met the representative of the advisor to the king on Islamic affairs and the head of the Hindu community. Teaching religion is key to peaceful coexistence between the communities. "In Thailand, everyone is free to profess their religion and there is no difference among the believers."
17/02/2017 - INDIA
Hindu ultranationalists growing in Kerala with more than 5,000 meetings a day
by Nirmala Carvalho
In Kerala Hindus, Christians and Muslims have always lived together peacefully. The Communist Party of India (Marxist), which won last year's State election, is open to democratic values. "Kerala could become a model for the national party".
17/02/2017 - CHINA - VATICAN
Lay faithful comment on Card. John Tong's article on China-Holy See relations: Overly optimistic
by Wang Zhicheng
The bishop of Hong Kong is too optimistic. The Patriotic Association is the stumbling block that controls the Church on behalf of the government. Compromise is possible, but the Church will be without commitment for justice and human rights. The underground Church is now a minority.


17/02/2017 - PAKISTAN
Pakistan's Catholic Church strongly condemns Sufi temple attack
by Kamran Chaudhry
The suicide attack caused 75 deaths, including 20 children, and over 200 injured. Islamabad imposed a crackdown on terrorism and closes the border with Afghanistan. Catholics fear violence even against the churches. Tomorrow will a youth march in Karachi.