01/05/2016 - VATICAN
After the Marian prayer of the Regina Caeli Francis appeals for peace in Syria: "There is a spiral of violence in the country that continues to aggravate the already desperate humanitarian situation of the country, particularly in the city of Aleppo, and claim innocent victims, even among children, the sick and those who with great sacrifice pledged to provide assistance to others ". Economic development "must take into account human dignity and fully respect labor laws". Pedophilia "is a tragedy. We must not tolerate it, the guilty must be severely punished."
30/04/2016 - CAMBODIA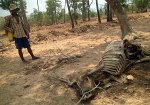 Drought kills hundreds of animals, survival of villages at risk
In many areas of the country lack of water and high temperatures means survival is at risk. 50 degrees reached in areas. Tons of fish and hundreds of species of animals - monkeys, reptiles, birds – have died in the last days. People wait for rainy season and the arrival of the monsoon.


30/04/2016 - RUSSIA
The "young" Orthodox Church of Moscow and Easter. Amid interiority and appearance
by Sergei Chapnin*
During the Soviet period it was difficult, dangerous and exhausting to celebrate the Resurrection of Christ. Yet the churches were full and the faithful involved in the liturgy of the victory over death. Today, 25 years after the newfound freedom of worship, the patriarchal liturgy is broadcast on television and Moscow does all it can to appear to be an orthodox city. But it is not and it will not be until it understands the intimate connection of the Easter period with the personal faith experience.
30/04/2016 - VATICAN
Pope: No one be distanced from God because of man-made obstacles!
At an extraordinary Jubilee audience, Francis returns to the theme of reconciliation, "God has never failed to offer his forgiveness to men: his mercy is felt from generation to generation." An appeal to confessors: "You are in the place of God the Father." A special Jubilee greeting for the police and the Armed Forces: "Faced with every day challenges, irradiate Christian hope, which is the certainty of the victory of love over hatred and peace over war."
30/04/2016 - SYRIA
Pastor of Aleppo: "My city is a ghost town. Our Lady, bring us peace!"
Father Ibrahim Alsabag speaks to AsiaNews of closed schools and shops, people barricaded in their homes even if they are not safe. Jihadist groups behind wave of violence, which has dragged in other rebel groups. Syria and Aleppo dedicated to the Immaculate Heart of Mary, that She may bring peace. The war has strengthened unity between Christians and created greater solidarity with Muslims.


30/04/2016 - SRI LANKA - EUROPE
Europe removes ban on fish imports from Sri Lanka
by Melani Manel Perera
The ban was imposed in January 2015 against Rajapaksa government's inability to curb illegal fishing. Since 2012, Sri Lankan fishermen under check due to lack of deterrent measures and violation of international law. Colombo exported 68% of fish to EU. The losses amount to 100 million dollars a year. Activist: "It is the fault of the unlawful conduct OF some fishermen, who then had a negative impact on the entire industry."
30/04/2016 - LEBANON - EU
Patriarch Rai's wake up call to EU: We need solutions to Middle East conflicts
Speaking to the European parliament, the head of the Maronite Church warns that the conflicts in the region not just directly impacting Christians, but also the Mediterranean and the EU itself. Islamic extremism is wiping out centuries of dialogue and is a threat to world peace. Enshrine Lebanon's neutrality and encourage Muslim nations to separate religion from the state.


29/04/2016 - PAKISTAN
Punjab: home-based workers call for the recognition of their rights
by Kamran Chaudhry
More than a hundred women marched yesterday in front of the Lahore Press Club, holding banners, calling for their wages to be raised to the national minimum. Some 12 million workers are employed in this area, and are denied the same rights that other workers enjoy. Since 2013, a draft bill has been before the Punjab cabinet waiting for approval. See the video of the protest.
29/04/2016 - INDIA
Card Gracias, saddened by the attack on Bishop Gallela Prasad, champion of the poor
by card. Oswald Gracias
The archbishop of Mumbai and president of the Federation of Asian Bishops' Conference condemns the attack against the bishop of Cuddapah. He calls on the authorities to act quickly. He also prays that God may "touch and turn the hearts of those who committed this sacrilegious assault." The attacked bishop is closely involved in empowering the poor and women.
29/04/2016 - PAPUA NEW GUINEA – AUSTRALIA
Manus Island refugees to sue PNG
The fate of almost a thousand people held in a detention camp on Manus Island has not yet been decided after PNG authorities decided to close the facility. With Port Moresby and Canberra expected to hold emergency talks, lawyers for the asylum seekers plan to "go straight to assessing reasonable compensation" in the billions.
29/04/2016 - SYRIA
As Aleppo comes under attack, with hundreds of dead and wounded, Caritas Syria aid crucial
At least 202 people have been killed over the past week in Syria's northern metropolis, including civilians (and many children). A MSF-supported hospital in a rebel-held area and two under government control are hit. "People are scared," but they "still want to stay," according to Caritas Aleppo. The latter's operatives visit hospitals to "respond to emergencies."
29/04/2016 - CHINA
Beijing changes law on foreign NGOs, giving police sweeping powers
Until now, the Ministry of Civil Affairs handled applications and paper work. Nearly 10,000 foreign NGOs are present on the mainland. For the German ambassador, the law is too restrictive. For NGO official, it damages charitable activities.
29/04/2016 - VATICAN
Pope: A Christian does not say one thing and do another: He walks in the light, "because God is Light."
"The lie we know where it comes from: in the Bible, Jesus calls the devil 'father of lies', the liar". "Sin is ugly! But if you have sinned, He is watching and waiting for you to forgive you! '. Always! Because He - God - is greater than our sins".


29/04/2016 - INDIA
Msgr. Menamparampil: Amoris laetitia affirms values of Indian families
by mons. Thomas Menamparampil
The apostolic administrator of Jowai comments on Pope Francis' Apostolic Exhortation. He believes that the papal document is applicable to the condition of the Indian tribal families. Amoris laetitia talks about "irregular" situations, marriages, divorces, abandoned children. All of this is also found in India where, as the Pope recalls, we must not give in to easy judgments, but to discern each situation case by case.

29/04/2016 - IRAN - USA
Tehran asks UN assistance for frozen Iranian funds in the US, managed by the Supreme Court
by Darius Karimian
A letter from Javad Zarif to Ban Ki-moon, recalls the injustices suffered by the people of Iran because of US policy. Criticism of the Supreme Court that allows the release of frozen funds to compensate victims of terrorism in Beirut.