28/03/2017 - VATICAN – UNITED NATIONS
In a message to the 'United Nations Conference to Negotiate a Legally Binding Instrument to Prohibit Nuclear Weapons, leading towards their Total Elimination', Francis said that dialogue must boost trust. "Humanity has the ability to work together in building up our common home; we have the freedom, intelligence and capacity to lead and direct technology, to place limits on our power, and to put all this at the service of another type of progress."
28/03/2017 - ISRAEL – PALESTINE
Tensions rise as Israeli settlers visit daily the Temple Mount
In 2016, more than 14,000 settlers visited the Muslim holy site (where the ancient Jewish temple once stood). The visits of Jewish extremists have sparked clashes between Muslims and police.
28/03/2017 - CHINA
Suzhou, 9 human rights activists detained in secret since September
On 8 September 2016, the police seized the protesters outside of the people's court in Suzhou. Eight are under "residential surveillance at a designated place" (RSDL), while another has been formally arrested. Those arrested were protesting the conviction of Fan Mugen. Some of the detainees are accused of having sent "politically sensitive" online messages. In November, other police arrests. The UN Committee against Torture: "The extent to which RSDL is widely abused illicit and open to interpretation and application." Eleven countries have called for an end to the practice.
28/03/2017 - PAKISTAN
For Mgr Arshad, Lent is a time to embrace our daily crosses
by Shafique Khokhar
The bishop of Faisalabad issues a message on our preparation for Easter. He addresses young people who are hardest pressed in finding jobs, facing the economic crisis, and integrating into society. He calls on people to follow Christ's example: his death and resurrection gave meaning to "our daily crosses".
28/03/2017 - VATICAN
Pope: follow Jesus by accepting the life we have, without being paralyzed by sloth
Sloth is a "bad sin", it means living just because "oxygen is free," is "by watching others who are happier than me"; it is full of "sadness", it makes you forget joy. "Sloth - said the Pope - is a shame that paralyzes us, we become paralytics. It stops us from walking. Even today the Lord looks at each of us, we all sin, we are all sinners but he is watching this sin, "he says," Get up. "
28/03/2017 - CHINA
Former judge detained for helping farmers in complaints against the government
Huang Yunmin was to set to accompany farmers to Beijing to file petitions. He could get up to ten years in prison. He had criticised the judicial bureaucracy and exposed court corruption. Because of this, he was forced out of his job.
28/03/2017 - RUSSIA
A fine and 15 days in prison for Alexei Navalny. Criticism from Europe and the US
Moscow claims many young people were paid to take part in the demonstrations. Navalny: "More than a thousand people were arrested yesterday, but it is impossible to stop millions." For EU and the US: an "affront to democracy."
28/03/2017 - INDIA
Karnataka Catholic Organization appeals for prison ministry volunteers
by Purushottam Nayak
Prison Ministry India has worked with detainees for over 30 years. Now it is running a recruitment campaign to bring relief to 1,382 in Indian jails. "Nearly 400 thousand people languish without love, hope and help." Membership is open to all; training will last two weeks from May 8 to 23.
28/03/2017 - LEBANON
Beirut: World Day of dialogue between religions and cultures
by Fady Noun
Lebanese political and religious leaders call for such a feast. The Islamic-Christian celebration can be a model for meeting and exchange. An international Marian centre dedicated to dialogue will be set up in the capital. A garden dedicated to Mary, a beloved figure revered by both monotheistic religions, will also be established.
28/03/2017 - EGYPT - ISLAM
Secularism and citizenship: how Al Azhar could influence Arab-Islamic countries
by Luca Galantini
The Cairo conference studies proposals for equal rights for Christians and Muslims, and for a State separation from religion. Regional constitutions and especially the Arab League and Organization of the Islamic Conference Human Rights Charter need to be addressed. All this just one month before Pope Francis' visit to Egypt.
28/03/2017 - HONG KONG – CHINA
Carrie Lam to visit mainland bodies in Hong Kong
by Paul Wang
Hong Kong's new chief executive will make a courtesy call, not a visit of gratitude for the mainland's support. She pledged to uphold the principle of "one country, two systems". Beijing's influence is "worrisome".
28/03/2017 - IRAN
The Islamic State threatens Tehran and Ayatollah Ali Khamenei
In a video in Farsi faction of the "province of Diyala" threatens Tehran over its involvement in ongoing regional conflicts. Iran's support for Iraqi government and Syrian leadership targeted. Its openness and tolerance towards Jews also criticized.
27/03/2017 - VIETNAM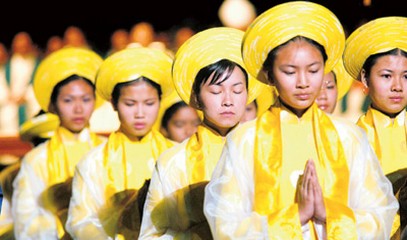 Youth evangelisation is an urgent priority for the Church in Vietnam
Vietnam's Catholic community is not growing. Young people and their testimony can help evangelise society. Youth need to interact with one another and share their experiences. Moving to the city comes with many difficulties.
27/03/2017 - INDIA
Mumbai, 25 thousand people make a pilgrimage for peace
Great participation of Catholics and non-Catholics in the annual Lenten march for peace 20 km. The pilgrims walked through the night for 7 hours until the Mass in the Basilica of Mount Mary. Card. Gracias: "Peace, harmony and brotherhood will prevail." Large presence of young people.
27/03/2017 - PAKISTAN
Pakistani Christians caught between the sacrament of marriage and domestic violence
by Shafique Khokhar-Ata-ur-Rehman Saman
Christians have begun to analyse in depth the institution of marriage. Abuse and violence among married people is the main spark. For decades, the only way of separating from a violent spouse was through conversion to Islam. Maria is one of the victims.