24/05/2017 - CHINA- VATICAN
The Bishop of Wenzhou (Zhejiang) had been kidnapped even before Easter. Pilgrimages continue to Sheshan: at least 80 groups - about 17,000 people - have arrived so far. Penance, prayer and recitation of the Rosary for the Church in China. Readings of Benedict XVI's Letter to Chinese Catholics.
by Victoria Ma
24/05/2017 - GREAT BRITAIN - ISLAM
Manchester Police: Salman Abedi, 22, Libyan parents, likely author of the attack
He had abandoned university, and according to some, had become radicalized. His father and brother were well-known in the mosque for their service and volunteerism. Great gathering places appear increasingly "vulnerable".
24/05/2017 - VATICAN
Pope: God will walk with us always, always, even in times of defeat
The episode of the disciples at Emmaus shows that ours is not an "invasive God", but he is always next to us. "It is a quick encounter, that of Jesus with the two disciples of Emmaus. But in it there is all the fate of the Church. He tells us that the Christian community is not locked up in a fortified citadel but walks in its most vital environment, on the road. And there it meets people, with their hopes and their disappointments, sometimes heavy. "
24/05/2017 - VATICAN - USA
Pope receives Trump: Middle East talks and protection of Christians, but also immigrants
Private interview lasts 30 minutes. Francis gifts Trump the message for the World Peace Day this year, titled "Nonviolence, a style of politics for peace", pointing out some of its themes to the president. "This, he said, is for you so you can be an instrument of peace." "We can use peace," replied the president.
24/05/2017 - NEPAL
Christians in Nepal enter politics. First Christian woman elected
by Christopher Sharma
Previously they could not take part in the elections. Christian parties and Christian representation in other parties grow, winning in some local units. Angela Tamang, Christian Indigenous, was elected municipal vice-president.
24/05/2017 - PAKISTAN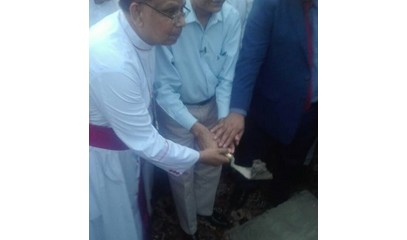 Faisalabad to have first university chapel in Pakistan
by Kamran Chaudhry
The place of worshipp will be built at the Faisalabad University of Agriculture. The project was approved after three years of discussion. The founding stone lain on May 18th. The structure will cost about 65 thousand euros, of which more than 25,000 donated by the diocese. Catholic professor: "It is not a favor of the administration. In all universities there should be churches, temples and gurdwara. "
24/05/2017 - BAHRAIN
Bahrain, police raid on a Shiite village: five dead, several arrests
The clashes took place in Diraz, near Manama, home of Shiite leader Sheikh Isa Qassim. Police opened fire on demonstrators, who responded with rockets and Molotov cocktails. Analysts and experts point out the coincidence between the raid against Shiite opponents and the meeting between King Hamad and Trump in Riyadh.
23/05/2017 - THAILAND
Fr Daniele Mazza, first missionary graduate in Buddhism, witness to the 'dialogue of friendship' (photos)
"Too often people of different religions have too little time to talk," but "Studying for two years with monks gave me" a chance to "ask topical questions without fear of being misunderstood." "Those who are in contact with Buddhism should not emphasise theory or theoretical concepts, but rather communicating the Christian experience [. . .] and the ways to reach it." Interfaith dialogue is fundamental to the life of the Church in Thailand. The challenges of the future include the call "to grow freer from influences and be more and more the clear voice and image of its Lord."
23/05/2017 - VATICAN - CHINA
Prayer for China at AsiaNews Symposium: the relics of Mother Teresa and a martyr of PIME
Mother Teresa made several requests to open a nursing home in China, but was always denied permission. Fr. Alberico Crescitelli of Pime was martyred in 1900 and canonized by John Paul II in 2000. The Prayer for China accompanied by the choir of the Chinese community of Rome and Augustin Zhang, of the Giotto Cooperative from Padua prison.
23/05/2017 - INDIA
Catholics are discouraged their church is vandalised, but will rally for peace, says vicar of Hyderabad
Bishop Bernard Swarna speaks about the attack against Our Lady of Fatima church. Police have provided protection to the diocese, and arrested 22 people. The Archdiocese plans a prayer meeting open to all. "We are not so far from" the persecution described in "the Acts of the Apostles." For some, the incident has "political-religious motives".
23/05/2017 - ISRAEL – PALESTINE – UNITED STATES
For Mahmoud Abbas, "the conflict is not between religions" but about the "occupation"
Today, Abbas and US President Donald Trump met. The president of the Palestinian Authority calls for the end to the occupation and settlements. For Trump, the problem is terrorism. In the West Bank strikes are held in support of prisoners on hunger strike for more than a month. Leadership, not weapons, is needed, according to Bernard Sabella. Understanding the causes of terrorism is needed to defeat terrorism.
23/05/2017 - IRAQ
Christian refugees from Nineveh caught between waiting to return and call for a papal visit
In Karamlesh, as in other towns in the Nineveh Plain, reconstruction work has begun, but return is still far away, which feeds the desire to go back. Radicalism "has increased distrust," but living alongside Muslims will have to be dealt with. Francis has been invited so that his presence can "strengthen the Church" in Iraq and "make us not feel forgotten".
23/05/2017 - VATICAN - GREAT BRITAIN
Pope denounces Manchester attack as "barbaric," and "meaningless violence"
In a telegram, Francis expresses a special thought to "those children and young people who have lost their lives, and of their grieving families," invoking God's blessings for peace, healing, and strength across the nation. Isis claims the attack.
23/05/2017 - VIETNAM
The Rosary, a moment of prayer that unites Vietnamese Catholics
by Thanh Thuy
Believers meet in many prayer groups. The Dominican Congregation in Vietnam has set up Rosary Associations. Many people are actively involved in promoting and supporting such groups. Several pilgrimages to Vietnam's shrines devoted to the Virgin are organised. Some young Catholics set up the Vinh Fatima prayer group. Celebrations are held throughout May, the Marian Month of Flowers.
23/05/2017 - INDIA
For clergymen arrested in Uttar Pradesh, time in prison was a 'God-given gift'
Six clergymen spent ten days in jail after Hindu nationalists accused them of inciting hatred between religions and causing a riot. Inside, they were abused by police and other inmates, but their "cool and composed attitude" led some inmates to listen to "the message of Christ's love."