09/12/2016 - SYRIA
The Syrian president distinguishes between the opposition forces in the country. Not all are collaborators and talks are not possible with those who are "serving foreign agendas". He attacks Saudi Arabia and Qatar responsible for Israeli superiority in the region. The fight against corruption and the commitment to improving the living conditions of citizens. A truce in the fighting in Aleppo.
09/12/2016 - SOUTH KOREA
South Korean parliament votes to impeach President Park Geun-hye
Members of her own party voted against her. Decision now rests with Constitutional Court. If ousted, Park would be the first South Korean president to undergo such a fate.
09/12/2016 - TIBET - CHINA
Gansu, Tibetan self immolates invoking the Dalai Lama
The 146th immolation since 2009. Police have taken the victim's body. The scene was filmed. The Dalai Lama: "Safeguarding life as the highest" value.
09/12/2016 - INDIA – UNITED STATES
After placing US Christian NGO under supervision, which puts thousands of poor children at risk, India has second thoughts
by Nirmala Carvalho
Compassion International operates in India with 580 partners, providing US$ 50 million a year. In February, the Indian government placed it under its supervision. The group has gone before the US Congress. Radical Hindu group criticises the explicit goal of evangelising children.
09/12/2016 - VATICAN
Pope: Priests should not be "officials", or worldly or "intermediaries" of God's love
The authentic priest "is a mediator very close to his people," an official instead just does his job, but then moves onto another "always as an official", "he does not know what it means to get his hands dirty" be in the midst of reality. And that is why when "the priest changes from official to intermediary he is not happy, he is sad." And looks for a little bit of happiness "in being seen, making his authority felt".
09/12/2016 - INDONESIA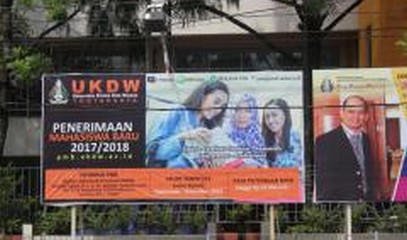 Muslim extremists slam Christian university for "false" advertising
by Mathias Hariyadi
A banner at Duta Wacana University, a Protestant institution, shows a female student wearing a hijab. According to Islamic radicals, a Muslim should not be shown in an ad for a Christian institution. However, for one Muslim student, "no political agenda should interfere with academic studies".
09/12/2016 - INDIA
Sister Meena Barwa: Handmaids of Mary mark Feast of the Immaculate with renewal of vows
by Nirmala Carvalho
Seven nuns operate in Madhya Pradesh. Yesterday 19 new sisters made their profession in Orissa. About 500 sisters in India and Germany. With particular preference for the poor, women and children, working in the field of social work, education and healthcare.
09/12/2016 - VIETNAM - CHINA
South China Sea: Hanoi continues to build on disputed islands
Satellite images taken on November 30 show Vietnamese ships near the Ladd Reef, a small island in the Spratly. The military purpose of the new base is still unconfirmed, but it could trigger Beijing's ire.
09/12/2016 - ISRAEL - PALESTINE
UN: Israeli settlements norm violates international law
The UN Human Rights High Commissioner Zeid Ra'ad Al Hussein invites parliamentarians to "reconsider" support for the norm. It "harms the reputation" of Israel in the world. The Knesset approves the first reading with 57 votes in favor and 51 against. Two more votes scheduled before final approval.
08/12/2016 - VATICAN
Pope's prayer for the Immaculate in Piazza di Spagna
by Papa Francesco
In homage to Mary in Piazza di Spagna, Pope Francis ideally brings the entire city of Rome and the world. He calls for an "immaculate heart" to love without" masks and ruses". He asserts the certainty of grace that wins over "discouragement". Afterwards, he visited S. Maria Maggiore.
08/12/2016 - VATICAN
Pope: God comes to dwell among us by means of a great Yes, that of Mary
On the Solemnity of the Immaculate Conception, Pope Francis compares man's 'No' before God to Mary's 'great Yes", "the most important in history". We are "experts in half Yeses" or 'missed Yeses'. He also mentioned the victims of the earthquake in Aceh (Indonesia), and invited the faithful to attend the homage to Mary in Piazza di Spagna this afternoon. The pope will also visit S. Maria Maggiore.
07/12/2016 - PHILIPPINES
Ozamiz archbishop calls for a stop to child soldier recruitment in Mindanao
Mgr Martin Jumoad wants the government to " double their efforts to win the sympathy of our young (people) [on] the side of goodness." Poverty and lack of education are the main causes of the problem. Rebel groups fighting government forces take hundreds of children.
07/12/2016 - YEMEN
Aden: authorities uncover Islamic State cell, arrest eight Jihadis
Security forces detain militants blamed for recent deadly attacks, seizing silenced pistols and letters from IS leaders in Syria and Iraq. Government troops find four tonnes of explosives in Shihr and arrest five suspects planning "terrorist attacks".
07/12/2016 - INDIA
In Andhra Pradesh, believers from every religion give thanks to Mary for miracles received
The Gunadala shrine it is one of the most important Marian sites in all of India. It was founded by PIME missionaries who brought a statue of Our Lady of Lourdes in 1928. A non-Catholic family thanked the Virgin for healing their child's heart condition. Offering facial and head hair is a gesture of humility in praying to God.
07/12/2016 - VATICAN
Pope: the secular state is a good thing, but laicism is old-fashioned
In an interview with a Belgian weekly, Francis criticises laicism that "closes the doors to transcendence", which instead is part of the human essence. "[N]o religion as such can foment war. Because in this case it would be proclaiming a god of destruction, a god of hatred." Synodality does not mean "descend[ing] from high to low"; it means instead "listen[ing] to the Churches, harmonis[ing] them, discern[ing]."