21/02/2018 - ISRAEL
Two of them survived torture in the Sinai. Refugees from the Holot detention center launch a hunger strike: "They are throwing our lives away". Israel wants to expel 15-20 thousand refugees, the prisons can only take 1,000.
21/02/2018 - VATICAN-CHINA-RUSSIA
The Ostpolitik of today and the 'outgoing' Church (III)
by Stefano Caprio*
The collapse of Soviet communism gave reason to the Vatican political choices in opening up to Russia and Eastern Europe. The new Ostpolitik announces a new world without geographic or confessional delineations. Pope Francis pushes the Church towards the peripheries and towards the high sea, as St. John Paul II had hoped. Part III of an expert analysis.
21/02/2018 - MALDIVES - INDIA - CHINA
State of emergency scuppers tourism, Chinese and Indian warships nearby
The Parliament extended the measure for another 30 days. Tour operators cancel hotel and flight reservations. The crisis is part of the regional power struggle between Beijing and Delhi.
21/02/2018 - SYRIA - TURKEY
Syrian army come to aid of Afrin's Kurdish militias against Turkish offensive
Pro-government forces have reached the autonomous region to the north, where YPJ Kurds are holding off an attack by Turkish forces. Erdogan threatens to besiege the area to bend the Kurdish resistance. International diplomacy fears an escalation of the conflict between Damascus and Ankara. A desperate situation envelopes East Ghouta.
20/02/2018 - TURKEY – GREECE
Seventeen Turkish officials seek political asylum in Greece
by NAT da Polis
The group of civil servants and judges with their families claim they are victims of persecution by the Turkish regime. Tensions between Turkey and Greece are bound to rise as both claim inlets off the coast of Turkey.
20/02/2018 - INDIA
The year 2017 was the worst for Christians in India
by Purushottam Nayak
An evangelical group issued a report highlighting 351 cases of violence, but the figure is not exhaustive, as many victims are afraid to come forth to report attacks to police. In three years, attacks against churches and other places of worship increased by 28 per cent.
20/02/2018 - BANGLADESH
Snehonir, the 'house of tenderness' for the disabled (photos)
Founded 25 years ago by Shanti Rani Sisters and PIME missionaries in Rajshahi, the facility is open to the mentally and physically disabled, deaf, blind, orphans, poor, and abandoned. The guiding principle is to start them in life.
20/02/2018 - KOREA
Defeated on ice, but 'first' in history, joint Korean hockey team players hug
After losing to Sweden in their last match, the Korean team ends up in seventh place. Players burst into tears at their imminent separation. "Politicians made that executive decision [to have a joint team]. Our players and staff are the ones that made it work," said the team's proud Canadian coach. One South Korean athlete hopes the country is proud of them. "It was bigger than hockey."
20/02/2018 - UZBEKISTAN
Tashkent, 18 thousand removed from the 'blacklist' of extremists
In the Karimov era, with the fight against religious extremism, the secret services justified abuse and were the armed arm against dissent. Mirzyoyev denounces torture of innocent people and promises to bring the guilty to justice.
20/02/2018 - INDONESIA – RUSSIA – UNITED STATES
Indonesia sees no consequence of Russian jet sale on relations with United States
by Mathias Hariyadi
Half of the US$ 1.14 billion deal will be paid with a barter scheme. In recent years, Indonesia has turned to Russia to upgrade its air force, turning down the offer of US F-16s. Since 2013, the Kremlin has supplied the Indonesian Air Force with five Su-27 and eleven Su-30 aircraft.
20/02/2018 - CHINA-VATICAN
Dear Chinese bishops, where is the measure of your heart?
by Joseph*
A young Catholic from the official community, appreciates the lucidity and the realism of Msgr. Guo Xijin (underground bishop), and doubts the style of other underground or official bishops, such as Msgr. Han Zhihai and Wei Jingyi. A meditation on the joys and sorrows of the Chinese faithful in front of the so-called "imminent" agreement between China and the Vatican.
20/02/2018 - SYRIA
The Syrian army ready for the offensive in Ghouta east. Dozens of civilian victims
At least 100 people died in one day alone yesterday, including 20 children; added to these are 470 wounded. The UN calls for an end to the bombings and talks about an "out of control" situation. Deposits and hospital facilities also affected. The rebels respond by throwing mortars on Damascus.
20/02/2018 - THAILAND-JAPAN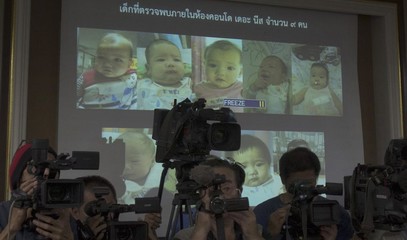 Surrogacy, Japanese man given 'lone custody' of 13 children
In 2014, the case caused a scandal, prompting the authorities to enact a law that prevents foreigners from seeking services of commercial subrogation in Thailand. Wombs for rent industry first moved to Cambodia and, after a ban there, to Laos.
20/02/2018 - VATICAN-CHINA-RUSSIA
Criticism of Ostpolitik, persecution and dissent (II)
by Stefano Caprio*
Paul VI consistently defended Vatican overtures to the USSR, although they scandalized many in the Church. Benevolent politics did not stop persecutions, which instead intensified. But a form of ecumenical and cultural resistance was born and was lived by Catholics, Protestants and Orthodox in the concentration camps. Part Two of an expert analysis.
19/02/2018 - SAUDI ARABIA
Women to open own businesses without the permission of a male guardian
The Saudi Ministry of Commerce made the announcement yesterday. The Saudi public prosecutor's office has begun to hire women. After the passport department advertised 140 jobs for women, 107,000 applications were received.